People suffering from dandruff often turn towards natural remedies as they are quite effective. However, choosing the right alternative to treat dandruff is also important. 
Rosemary Essential Oil is known for its antibacterial and antifungal properties. Due to this, it is often used for treating dandruff. In this article, we will talk about how to use Rosemary Essential Oil for dandruff. 
Benefits of Rosemary Essential Oil 
Before learning how to use Rosemary Essential Oil for treating dandruff, let's look at its benefits:
Rosemary Essential Oil For Prevents Premature Greying 
Rosemary Essential Oil has powerful antioxidants. These antioxidants stop premature greying of hair by protecting your hair follicles from dust, humidity, pollution, and other external factors. It also minimizes oxidative stress to further delay the process of premature hair greying. 
Rosemary Essential Oil For Anti-Inflammatory 
Rosemary Essential Oil has a soothing effect on your scalp due to its anti-inflammatory properties. So, you don't have to worry about scalp irritation when you use it in your DIY dandruff recipes. It is also effective against itchiness of the scalp. 

Rosemary Essential Oil For Effective against Fungus 
The antifungal properties of Rosemary Essential Oil make it effective against a vast variety of fungus. Due to its fungicidal properties, it is also used in hair applications that are formulated to treat dandruff. It is also antimicrobial in nature. 
Rosemary Essential Oil For Hair Growth 
Using Rosemary Essential Oil also has a positive effect for hair growth. It increases hair volume and also boosts the process of hair growth. As a result, you get thick voluminous hair after using the products or DIY recipes containing Rosemary Essential Oil. 
Rosemary Essential Oil For Nourishes Hair 
Rosemary Essential Oil promotes blood circulation in the scalp region. This is possible because of its vasodilator properties. As more blood gets supplied to the hair roots, it ensures that your hair gets enough nourishment. So, your hair remains healthy and nourished throughout the day. 
How to Use Rosemary Essential Oil For Dandruff?
You can use Rosemary Essential Oil for dandruff in the following ways:
If you want to use Rosemary Essential Oil on your hair and scalp as it is, you must dilute it with a suitable carrier oil first. Diluting the oil will reduce the concentrated effect of this essential oil. Once you dilute the oil, you can massage the mixture on your scalp. After 10 to 15 minutes, you can wash your hair with a natural shampoo. 
If you already have a natural and effective shampoo, you can add a few drops of Rosemary Essential Oil into it. Now, shake the bottle well and use it like regular shampoo. 
Rosemary Essential Oil For Hair Masks 
You can also use Rosemary Essential Oil in DIY homemade recipes like hair masks. The medicinal properties of this essential oil will reduce your dandruff and provide quick relief from itching or scalp irritation. 
Precautions To Be Taken 
The following precautions are to be taken while using Rosemary Essential Oil for dandruff:
Do not apply concentrated Rosemary Essential Oil directly onto your scalp. It can cause severe irritation and other side effects. Also, do not use Rosemary Essential Oil in excess as it can also cause various issues like scalp redness and irritation. 
If you are allergic towards natural oils, it is better that you conduct a patch test before applying it on your scalp. The patch test can be taken on your elbow or knees 48 hours prior to using it for dandruff treatment.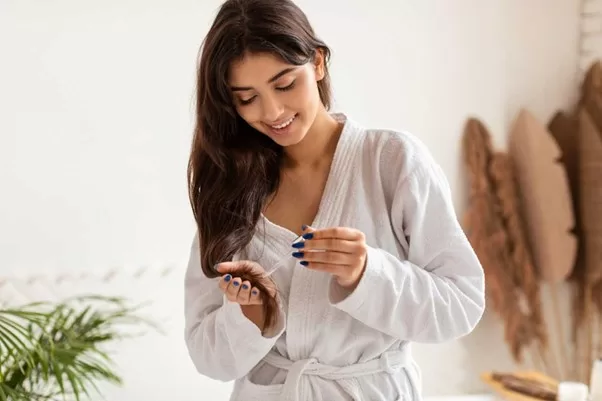 Pregnant and breastfeeding women should avoid using Rosemary Essential Oil as their skin might be sensitive during this period. 
Always consult a doctor if you are suffering or have suffered from any skin issues in the past. 
Conclusion 
These were some ways and benefits of using Rosemary Essential Oil. Always get Rosemary Essential Oil in its pure and concentrated form. VedaOils is among the top brands when it comes to powerful and effective essential oils. You can order Rosemary Essential Oil from their portal and get it at wholesale rates. Bulk orders are also accepted for commercial use.