Hey girls…
I'm really excited about today's post since this is really new for most of us. After the review of skincare villa's green tea and mint cleanser, here I'm with the review of Moolit's cleansing cream of sea buckthorn.  Cleansing toning and masking are my favorite steps in skincare routine and that is the reason why I always buy new cleansers and face masks often. Ok coming to today's post, this is a new brand for me and I haven't tried any products before from her.
Utkarshini is the face behind this brand and she is a certified skincare formulator. She is well known for her 100 times washed ghee which is a great moisturizer for our skin that can penetrate 7 layers of our skin. But I was not fortunate enough to get hands on her 100 times washed ghee. But when she launched this cleansing cream of sea buckthorn I bought it without any second thought. Ok, guys, I can hear you screaming to stop my rambling so let's get into the review.
PRICE
Rs 500 for 100gm of the product.
AVAILABILITY
Earlier she used to sell her products in Instagram but now it is available in her online store here. Currently, her products are out of stock since her products are selling like hot cakes. So keep an eye on her Instagram profile to know when it will be back in stock.
INGREDIENTS
Actives:
Sea buckthorn juice(Vit C), Sea buckthorn oil(Vit A), Plant glycerine(humectant to attract water from the air towards our skin), sea buckthorn berries(gentle exfoliator), tocopherol(Vit e).
Inactives:
cetearyl olivate and sorbitan olivate(Ecocert certified emulsifier made from olive chemistry), coco glucoside(cleanser made from renewable resources like coconut oil, corn, potato and fruit sugars),benzyl alcohol, salicylic acid, glycerine and sorbic acid (Ecocert certified preservative blend made from pine resins, rowan berries, willow bark extract to prevent microbes from partying in the jar), xanthan gum (food grade gum derived from glucose to prevent the formula from curdling in hot climate), lactic acid(PH balancer derived from milk to match the PH of our skin).
I am really impressed with the ingredient list since it has skin loving ingredients and she has even mentioned the work of each and every ingredient which makes the brand trustworthy.
PACKAGING
The cleanser comes in an amber colour jar with all the necessary information in it. To use we can use a clean spoon to take the product out.
SMELL AND TEXTURE
The cleansing cream of sea buckthorn has a creamy texture as its name suggests. It has sea buckthorn berries in them but they are soft and feel gentle on our skin. The cleansing cream has the smell that resembles almond. I have read that the preservative blend used in this cleansing cream has the almond smell and since she didn't use any fragrance oil, it has the smell from the preservative that is not bothering either.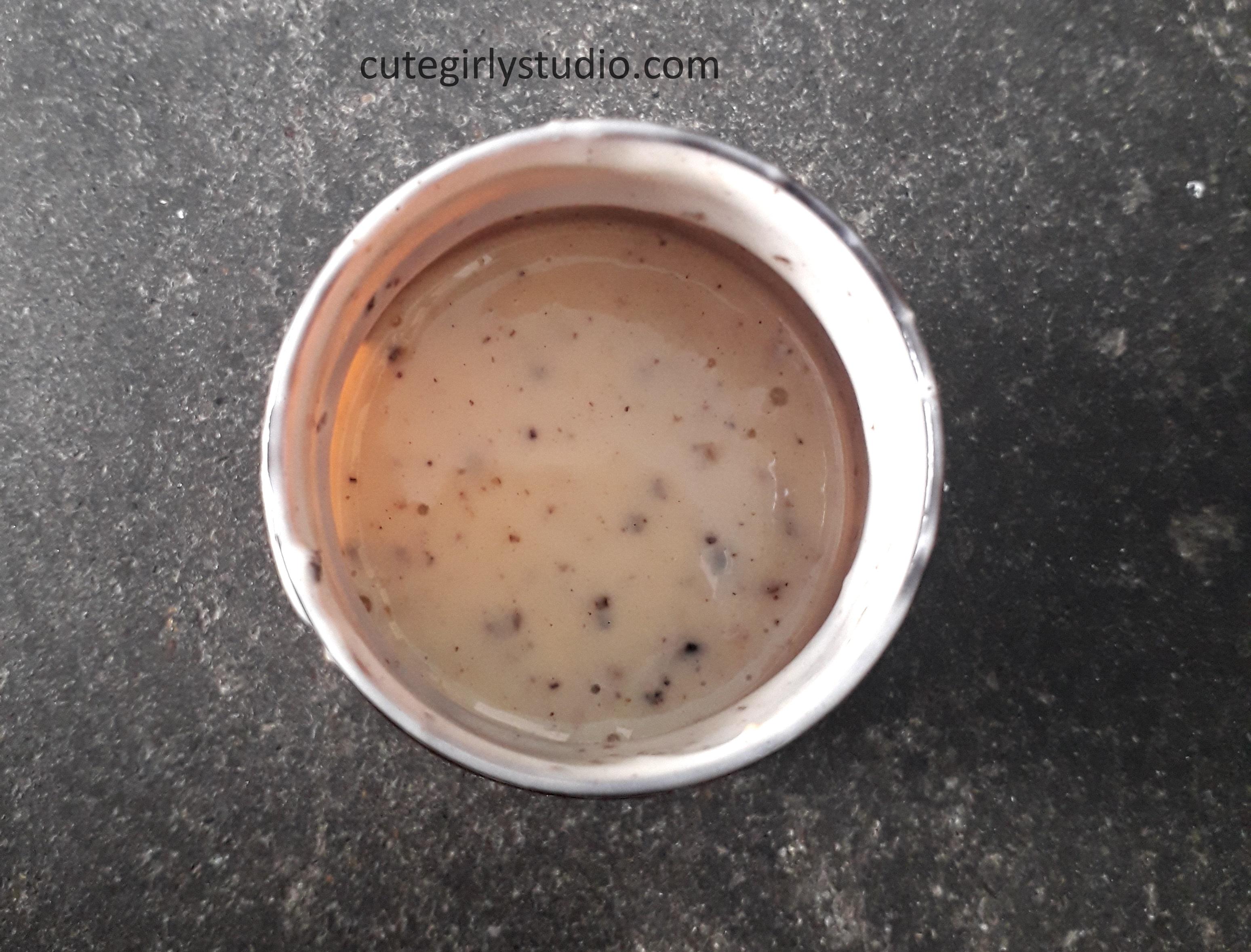 HOW I USE THE CLEANSING CREAM OF SEA BUCKTHORN
I take a coin size cream in my palm and massage it all over my face for about 2 to 3 minutes and then leave it for about 10 minutes if I'm not in a hurry and then rinse my face with running water.
MY VIEWS
I always like using sea buckthorn oil on my skin since I'm on the process to heal my damaged skin and face PIH(Post Inflammatory Hyperpigmentation), so when I came across this cleansing cream with sea buckthorn as the main ingredient I bought this without any second thought. This cream cleanser has sea buckthorn juice that is rich in vitamin C and sea buckthorn berry oil that is rich in vitamin A. These 2 vitamins are necessary to heal and repair our skin. She has sourced the sea buckthorn berries from spiti valley to cook this nourishing cream cleanser. For past 3 years, I have been in sun for a long time due to my college schedule and my skin is severely sun damaged. Sea buckthorn is really helpful to reverse sun damage and that is the reason why I love this cleansing cream.
I'm using this cleansing cream of sea buckthorn for a few weeks now and all I can see is my skin is brighter and less damaged. The sea buckthorn has really healed my damaged skin. Earlier I used to use stripping facial cleansers but as soon as I came to know that I have dehydrated skin, I switched to cleansing grains and mild cleansers. I thought cream cleansers are meant for dry skinned girls but I was wrong, this cleansing cream removed excess oil without stripping my skin. My skin in fact feels moisturized after cleansing, I don't feel the urge to moisturize my skin.
I have extremely oily skin that you can see few drops of oil around the corners of my nose (gross) when I wake up in the morning but this cleanser removed excess oil effectively. After cleansing when I tone my skin, I don't see any residue on the cotton pad so yay. My mom has really dry skin and she also likes this cleanser since her conventional cleansers dry out her skin whereas this cleansing cream hydrated her skin. This will suit dry skin people also. Overall I like this cleansing cream to the core.
UPDATE
I am updating this review after 2 weeks of this review. I found that this cleanser may worsen your acne condition if your skin is prone to breakouts easily. When I had the breakout, initially I thought it was due to another skincare product, but after I stopped using this, my skin remained acne free. So, I don't suggest this for acne prone skin but, if you have dry to normal skin then this will suit you guys.
PROS OF MOOLIT'S CLEANSING CREAM OF SEA BUCKTHORN
Handmade and cruelty-free.
Brightens the skin.
Nourishes your skin.
Cleanses the skin effectively.
Has all the goodness of sea buckthorn.
This Cleansing cream is rich in vitamin C and A.
Heals sun damaged skin.
Suits all skin types.
CONS OF MOOLIT'S CLEANSING CREAM OF SEA BUCKTHORN
It may worsen acne condition if your skin is prone to breakouts easily.
CGS RATING 4/5
See you soon guys
Xoxo.