Hey girlss…
I bought Ryaal make me glow face mask when it was launched by the brand. I bought this face mask after reading the ingredient list. The ingredients used in this face mask were impressive and so I bought it without any second thought. I have used it regularly for some weeks and here is the review of the face mask.
PRICE
MRP Rs 699 for 125g gm of the product, but it is available for Rs 499 at Amazon.in.
Some may find it expensive.
Rating for the price: 4/5
INGREDIENTS
Refer the image below.
Rating for Ingredients: 5/5
PACKAGING
The Ryaal make me glow face mask comes in a sturdy black plastic jar. The packaging is similar to the lush products. The container has all the necessary information like the price, ingredient list and claims. The face mask is secured with the inner lid which prevents the face mask from spilling when we travel.  I find the packaging travel-friendly.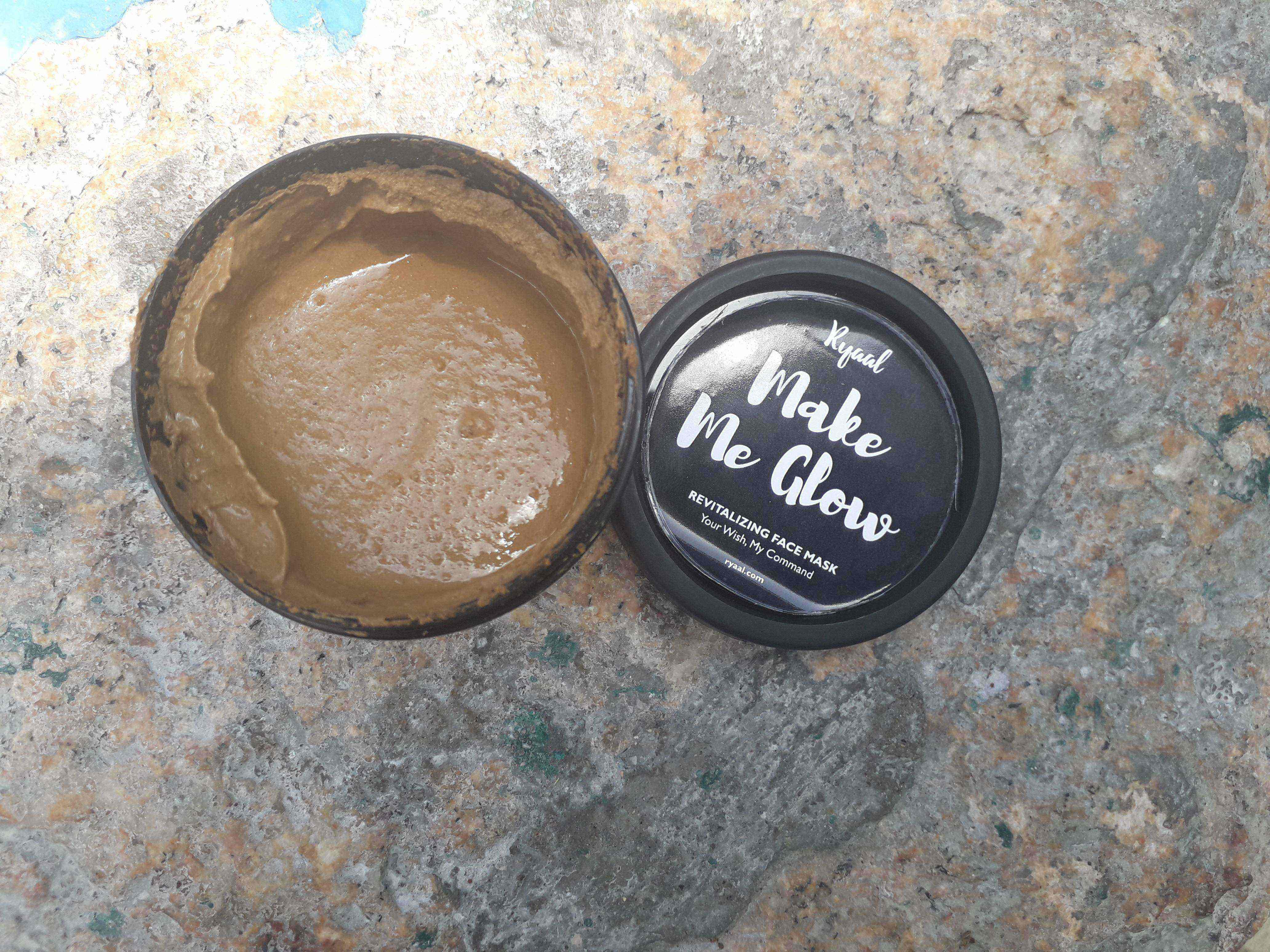 Packaging rating: 5/5
SMELL AND TEXTURE
I just hate the way the Ryaal make me glow face mask smells. I love sandalwood fragrance, but when I opened the container I was disappointed since the smell was really strong and it has the mix of woody and citrus smell which I personally don't like.  It has the mix of floral, woody and citrus smell. The texture of the Ryaal make me glow face mask is perfect to apply. It is neither runny nor thick it is just perfect. It has soft scrubbing particles which I guess is the almond meal. The scrubbing particles are soft and like the way it cleanses your skin while washing away the mask.
Rating for smell and texture: 4/5
HOW RYAAL MAKE ME GLOW FACE MASK WORKED ON MY SKIN
I have acne prone oily skin. My views about this face mask will be from my personal experience. When I used this face mask for the first time, I used my DIY scrub to exfoliate my skin. After exfoliating my skin, I applied a thin layer of this face mask all over my face and neck. Initially, I had a slight burning sensation which subsided within 1 minute.  I washed my face after 15 minutes. My skin felt smooth and soft after using this face mask. Since it gave slight burning sensation I didn't use it after that.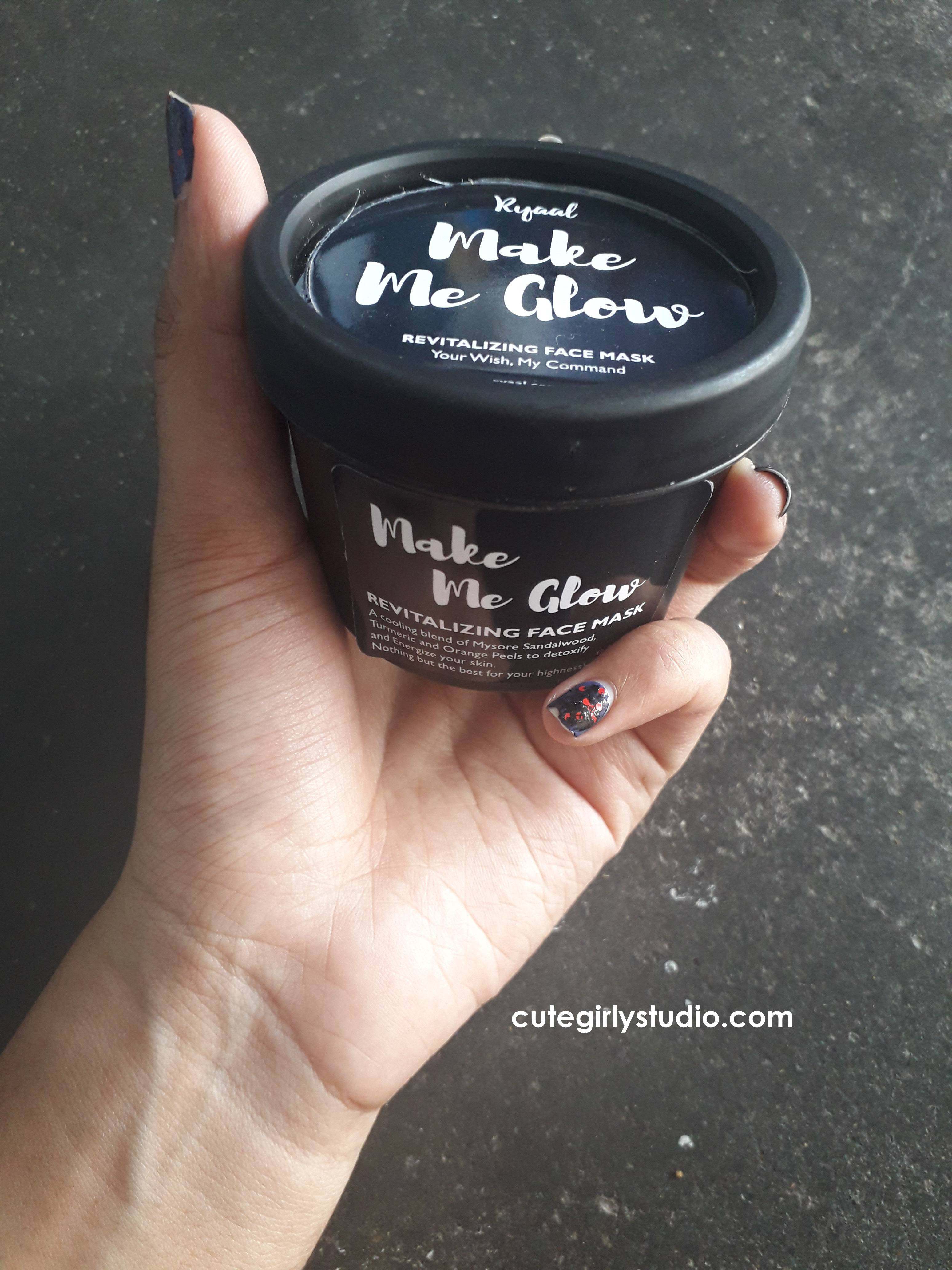 After 1 month I thought to give it a try. This time I exfoliated my face with Yami herbals skin polishing face scrub. I had severe burning sensation and washed my face immediately.  I read many reviews and all said that it gives you glow and removes tan, this made me try this face mask again. After 1 week I dared to use this face mask again but this time I didn't exfoliate my skin and the face mask doesn't give me burning sensation. After that, I started using it on days when I don't exfoliate my face.Then I started using this face mask on alternate days for 3 weeks before reviewing this product so that I can review the product properly. I have used most of the ingredients in my DIY and I didn't face any issue before. I don't know what caused that burning sensation. So I don't recommend this face mask to sensitive skinned beauties.
This mask makes your face fresh and soft with regular usage. It doesn't give you glow as claimed. A single product cannot give you the glowing skin. Diet along with good lifestyle gives you the glowing skin.
Final verdict
You can try this face mask if you want something new to try. But I don't recommend this to sensitive skinned beauties.
Will I repurchase?
No, I stick to my DIY face mask itself.
PROS OF THE RYAAL MAKE ME GLOW FACE MASK
100% organic.
Impressive ingredient list.
No preservatives and chemicals.
Handmade, vegan and cruelty-free.
Has goodness of sandal, rose, orange and wild turmeric.
Have mild exfoliating properties.
Suits all skin types.
Travel-friendly packaging.
CONS OF THE RYAAL MAKE ME GLOW FACE MASK
Personally, I hate the smell of this face mask.
It gave slight burning sensation to my acne-prone skin.
Some may find it expensive.
Nothing extraordinary, it just works like an ordinary clay mask.
CGS RATING: 3/5