Hiee angels…
How is the weather in your place?? Here it's raining cats and dogs and it is really difficult for me to get out of my bed to take some snaps for my blog post anyhow mother nature gave me 15 minutes break for the rain and I manage to take some snaps outside my house and here is the review. Today I will be reviewing The face shop Jeju aloe 99% fresh soothing gel. If you have read my tiny nykaa haul post then you will know that I bought this aloe gel along with their bamboo gel. I'm using both of these gels in my skincare regime and here are my views on it.
PRICE
Rs 390 for 300 ml. You can buy it from here.
The face shop Jeju aloe vera gel comes in a big round tub and has 300ml of product. This would last for ages if we use it only on our face. The gel is colorless and has some added fragrance. The fragrance is not strong and so the added fragrance is not a big problem for me. Since the tub has an inner lid, the aloe gel doesn't spill from the tub. Overall the packaging is good. But I would recommend you to buy the gel in tube packaging since it will be more convenient to use and more hygienic.
INGREDIENTS
ALOE BARBADENSIS LEAF EXTRACT•ALCOHOL DENAT•GLYCERIN•POLYSORBATE 20•CARBOMER•TRIETHANOLAMINE•BIS-PEG-18 METHYL ETHER DIMETHYL SILANE•GLYCERYL POLYACRYLATE•ALLANTOIN•BENTAINE•SODIUM POLYACRYLATE•CAPRYLYL GLYCOL•ETHYLHEXYLGLYCERIN•CITRUS PARADISI (GRAPEFRUIT) SEED EXTRACT•ARTEMISIA PRINCEPS EXTRACT•BUTYLENE GLYCOL•POLYGLUTAMIC ACID•LACTOBACILLUS/ALOE BARBADENSIS FERMENT FILTRATE•DIPROPYLENE GLYCOL•PENTYLENE GLYCOL•MORUS ALBA BARK EXTRACT•GLYCINE SOJA (SOYBEAN) SEED EXTRACT•CHAMOMILLA RECUTITA (MATRICARIA) FLOWER/LEAF EXTRACT•ROSMARINUS OFFICINALIS (ROSEMARY) LEAF EXTRACT•LAVANDULA ANGUSTIFOLIA (LAVENDER) FLOWER EXTRACT•BASIL LEAF EXTRACT•SAGE EXTRACT•WATER/EAU•DISODIUM EDTA•PHENOXYETHANOL•PARFUM/FRAGRANCE•CHLORPHENESIN
(From the face shop website)
MY VIEWS
The face shop Jeju aloe vera gel is colorless and has refreshing kinda fragrance which is not so strong as I said before. I have used Patanjali aloe vera gel before and I hate it to the core since it has a strong fragrance( I know many will kill me but I don't like the way Patanjali aloe vera smells and also it didn't work for me at all). Since I have dehydrated skin I always hydrate my skin before moisturizing. For hydrating I use hydrosols and aloe gel. I apply a layer of this aloe gel and it gets absorbed into my skin quickly and doesn't leave any residue.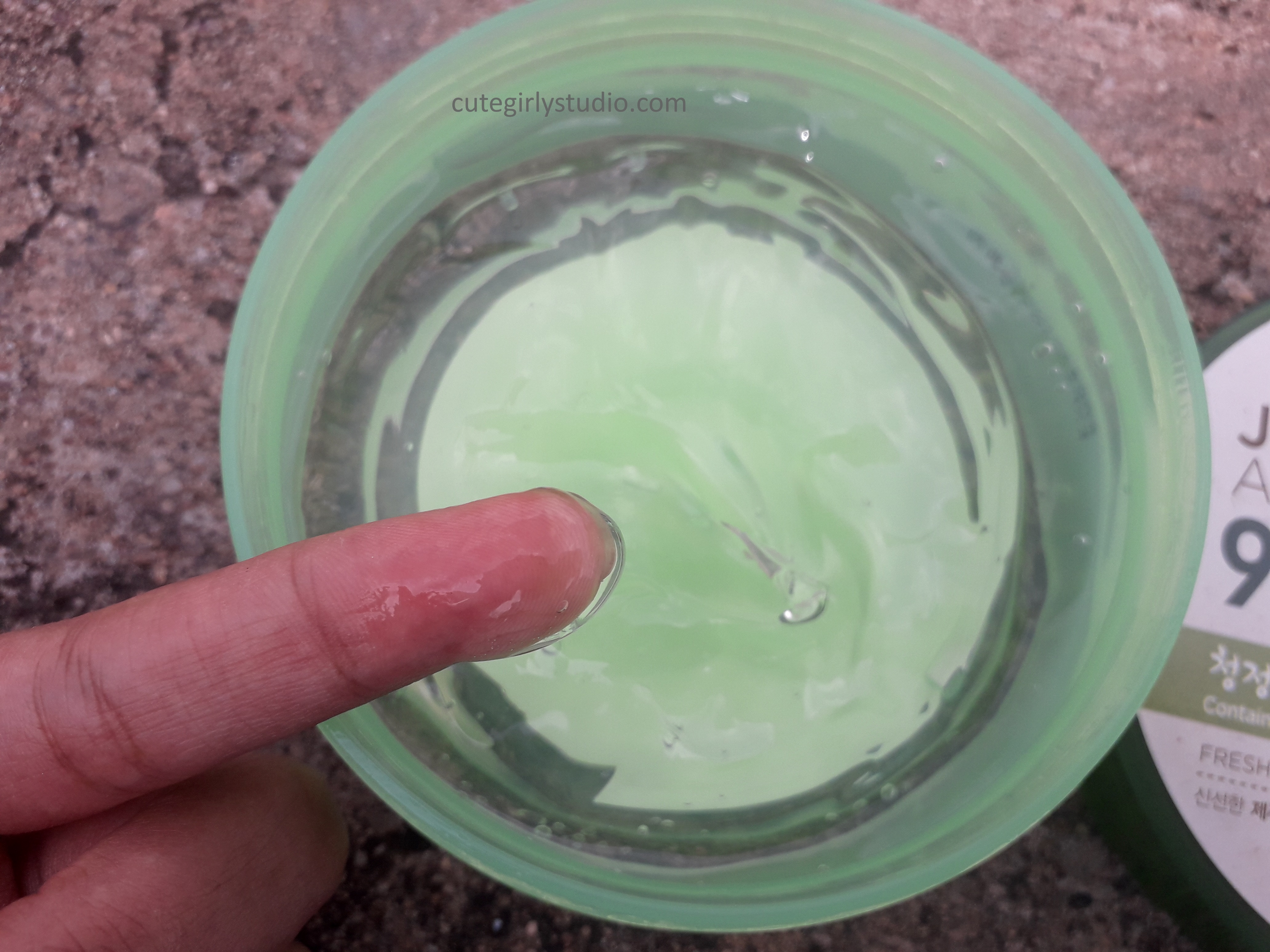 After using this aloe vera gel regularly I can say that this is a good hydrating product. I use this to mix my face masks and powdered scrubs. I also use this aloe vera gel along with my facial oil to massage my face once a week whenever I don't have active acne. It gives a cooling sensation whenever I apply this and I like that feeling. Sometimes I apply a thick layer of this gel at night and let it sit on my face overnight and when I wake up all I can notice is well hydrated skin.
Many people rave that this is the solution to most of the skin problem but personally I don't think so. It helps to hydrate our skin and helps to heal acne faster other than that I don't find any difference in using this. This is a good aloe vera gel in my opinion and it is not a miracle product as said by others. If your current aloe vera gel is running out and looking for a new one you can buy this or else you can skip this I don't find any special reason to recommend this aloe vera gel.
THUMBS UP
Has 99% aloe extract.
Huge quantity for the price.
Free from parabens, benzophenone, animal-derived ingredients, mineral oil, artificial colouring.
Helps to hydrate the skin.
Helps to reduce the size of acne to a certain extent when used regularly.
Multipurpose product.
Suits all skin types.
THUMBS DOWN
It feels slightly sticky if we use more than the required amount of product.
CGS RATING: 4/5
Thats all for todays post guys.. Don't forget to follow me on Facebook| Instagram| Pinterest and Google+ .
Subscribe to our blog for latest updates.
Bubye.