Hair care is something that I ignored lately and when I experienced dandruff and mild hair fall issues, I took my hair care game seriously. I purchased hair care products from Vilvah and I have shared my review of Goat milk shampoo. You can read it here. After using Vilvah's hair growth (reverse balding) oil, here are my views on it.
Price
650INR for 100ml. You can buy it here.
Claims
Concerned about the appearance of bald patches on the head? At Vilvah we have the perfect solution to set your mind at ease. Our elixir works its potent magic on the hair and scalp, using a blend of 100% natural oils. The antioxidants and nutrients rich Pumpkin Seed Oil, works with the other ingredients to repair and rejuvenate hair and scalp, promoting healthy hair growth and thereby successfully reversing the balding process and reducing hair fall.
(From website)
Ingredients (From website)
*Cucurbita maxima(Pumpkin Seed Oil), *Nigella Sativa (virgin black seed oil or kalonji oil), **Ricinus communis(Castor Oil), *Ricinus communis(Grapeseed Oil), *Prunus dulcis(Almond Oil), Natural Vitamin E , *Rosmarinus officinalis(Rosemary Oil), *Mentha piperita(Peppermint oil).
*Certified organic **Organically grown, but not certified
Ingredients (From Label)
Pumpkin seed oil, castor oil, grapeseed oil, almond oil, Natural vitamin E oil, rosemary oil, peppermint oil.
The black seed oil is missing on the label of the product.
Packaging
The Vilvah hair growth oil (reverse balding) comes in a plastic flip flop bottle. The bottle is sturdy and travel friendly. The oil doesn't spill and cause any mess. Overall the packaging is good.
My views on Vilvah hair growth oil (Reverse balding)
The Vilvah hair growth oil is golden brown in colour and has strong minty aroma. The hair oil is neither thick nor thin and thus it suits all scalp and hair types. I usually take required amount of hair growth oil in a bowl and warm them through double boiler method. Then I massage the oil all over my scalp and hair lengths.
The hair oil spreads easily and little oil is enough to cover entire scalp. After massaging, I tie my hair in a loose braid and leave it overnight and shampoo my hair in the morning. Despite having oily skin, the oil doesn't clog my pores. After shampooing my hair feels soft, thanks to the almond and castor oil.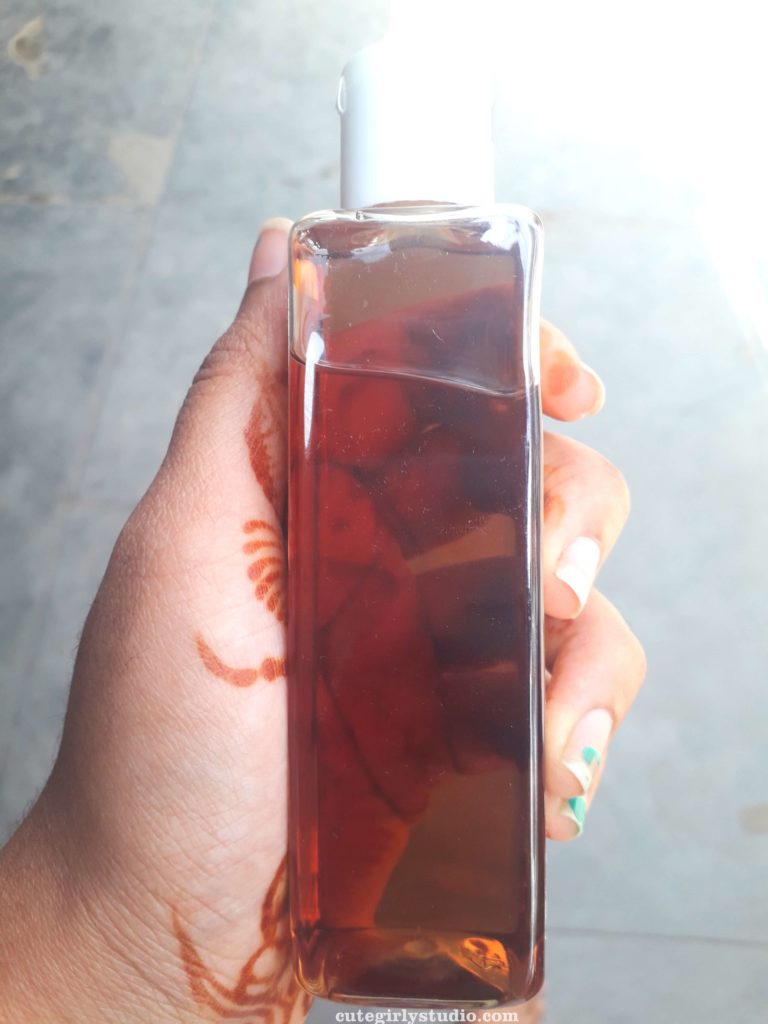 For first few uses I didn't notice any difference but after 3 weeks I could see that my hair is shiny. After 1 month my hair increased in its length. The hair oil definitely promotes hair growth. Though I didn't see hair regrowth, this helps to grow my hair longer. It reduces hair fall to great extent when used on regular basis. Overall I love Vilvah hair growth oil (Reverse balding).
PROS
Promotes hair growth
Handmade
Little goes a long way
Doesn't clog pores even when left overnight
Conditions dry hair
CONS
I didn't see much difference in hair regrowth part.
It is not a major drawback since we can't expect a single hair oil to regrow our hair.
Will I recommend Vilvah hair growth oil (Reverse balding)?
Yes. If you want to grow your hair loner, then this would be perfect pick.
That's all for today's post guys.
Xoxo