Hi all..
Today I'm going to review a face wash from brand Good vibes. In my previous post, I shared 5 anti acne face masks with you guys. If you have acne-prone skin then do check that out here .  If you follow me on Instagram then you will know that I bought some stuff from purplle. This product is one among them. The face wash that am talking about is Good vibes strawberry face wash. This face wash claims to have the goodness of strawberry. Read on more to know about this product.
PRICE
Rs 175 for 120 ml.
CLAIMS
Strawberry, because, well STRAWBERRY!! super rich in vitamins, strawberry cleans the skin efficiently and leaves it glowing.
Crafted with passion, skill, fresh ingredients and skin expertise. After all in life, all you ever need is love, glow on your face and good vibes.
INGREDIENTS
Refer the image below.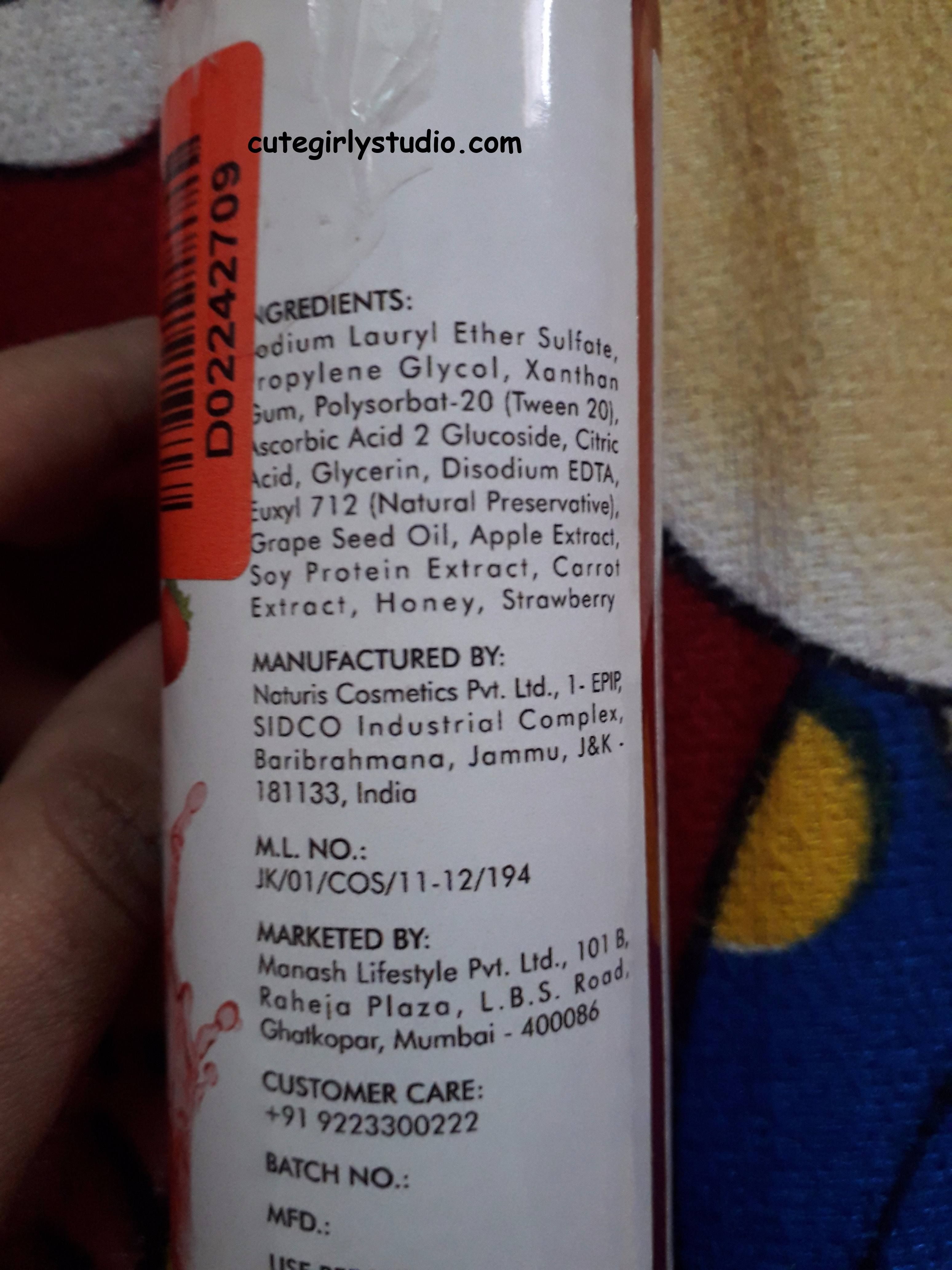 SHELF LIFE
2 years
PACKAGING
I just like the packaging of this face wash. The Good vibes strawberry face wash comes in a pump bottle that has safe locking system. The locking system ensures that the product doesn't spill when you travel. The bottle is also of good quality and it is not at all flimsy. Since the bottle is transparent, you can see how much product is left. Overall the packaging is good.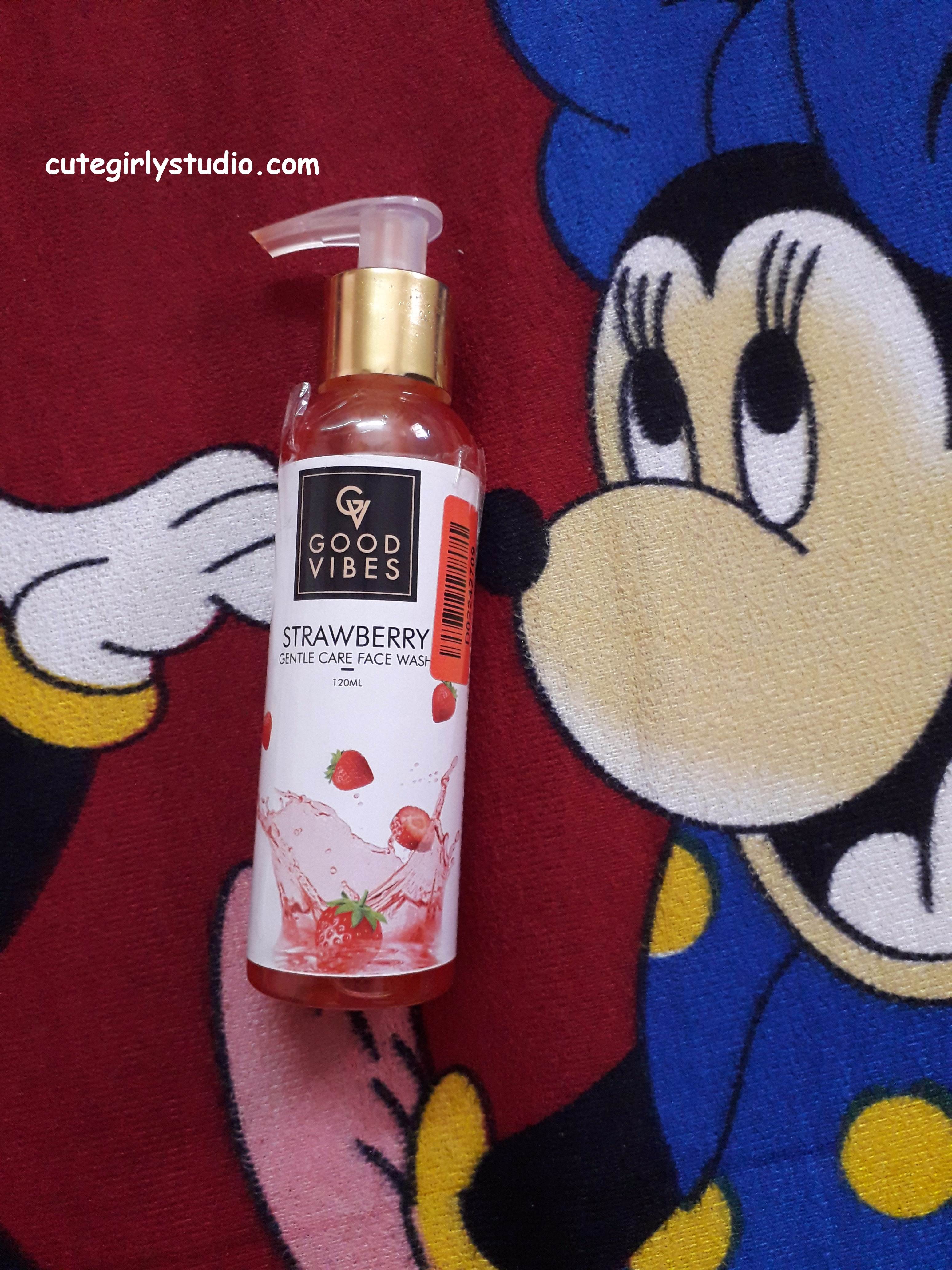 TEXTURE AND SMELL
The texture of Good vibes strawberry face wash is neither thick nor runny. It has the perfect consistency to work with. This face wash is a gel cleanser. The face wash lathers satiny and cleanses your skin. This Good vibes strawberry face wash has an apple fragrance. Yes!! it smells like apples. It smells like apples since it has apple as an ingredient. Good vibes strawberry face wash smells all fruity and it refreshes your senses.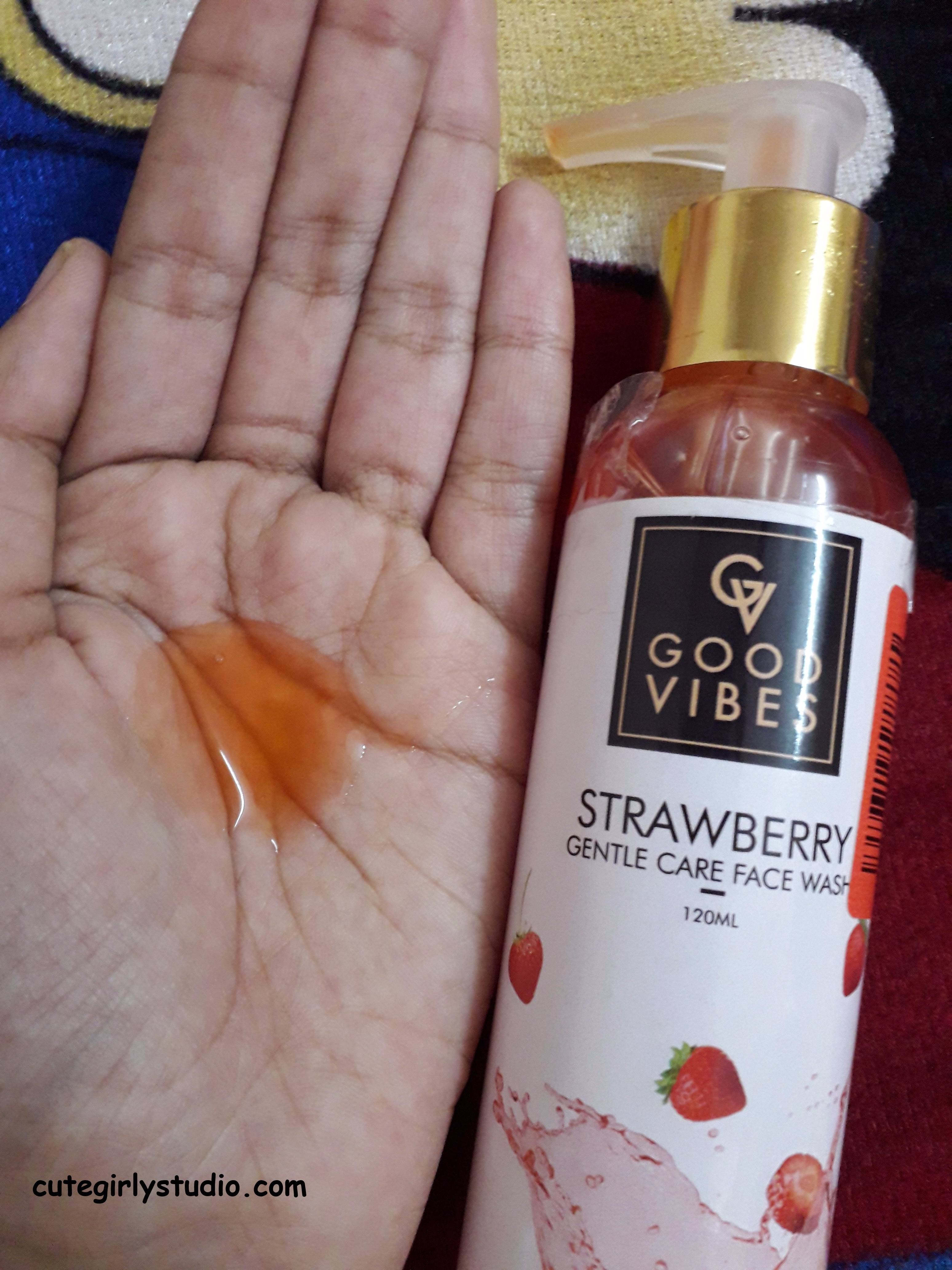 MY VIEWS
I'm entirely disappointed with Good vibes strawberry face wash. Before buying this product, I read the description about the product, and it mentioned that the face wash is sulfate and paraben free. When I receives the product, I read the ingredient list, I saw Sodium lauryl ether sulfate as the first ingredient. Also, the ingredient list mentions strawberry as the last ingredient, which means that the strawberry content is less than 1 %. I don't know why they say this as the strawberry face. The face wash has apple extract, honey, soy protein extract, carrot extract, and grape seed oil. These ingredients are before strawberry extract in the ingredients list which means that these are in higher quantity than strawberry. So I don't consider it as a strawberry face wash.
Sulfate is present in higher quantities, so it is definitely not good for your skin. Whenever you see SLS and SLES as the first ingredient in skincare products, then it is not good for your delicate facial skin. So I don't recommend using face cleansers with SLS or SLES. I use it for a week now and I'm not going to use this anymore. I usually take 1 pump of this face wash and then lather it in my palms and then massage it on my face. It lathers satiny and cleanses my skin and my skin feels smooth post-wash. The smoothness that it gives is due to the presence of PROPYLENE GLYCOL, which is the 2nd ingredient in the ingredient list. If you have read my post about chemicals in hair care products, you will know the effects of using SLES and PROPYLENE GLYCOL.
Propylene glycol leads to itchy skin and scalp if used regularly. They say it to be gentle care but I can see only harsh chemicals in their ingredient list and all the natural ingredients are at the last which means that their presence is almost negligible. When you read the ingredient list you will find that the natural ingredients are after the preservative, which means that these natural ingredients are less in quantity when compared to preservative(say less than 1%).
Another problem with this Good vibes strawberry face wash is that it leaves a soapy layer on my skin. This face wash takes time to get washed off. After cleansing, whenever I apply the toner I can see soapy residue on my cotton pad. If I apply rose water by patting onto the skin after washing my face , my skin creates lather mildly. The Good vibes strawberry face wash never gets washed off completely. I'm disappointed with this product. I had no idea to review this product, but I want my readers to be aware of the ingredients used in their skincare products. Always read the ingredient list before you buy any products. I'm not going to use this product anymore. I'm happy with my homemade orange cleanser and it does more good to my skin.
PROS OF GOOD VIBES STRAWBERRY FACE WASH
Good packaging.
Has complete ingredient list.
Has grape seed oil, apple extract, carrot extract, honey, and strawberry.
Free from paraben.
Smells good.
CONS GOOD VIBES STRAWBERRY FACE WASH
Has SLES and Propylene glycol.
Leaves soapy residue.
Takes time to washed off.
Has natural ingredients in negligible quantity.
CGS RATING 3/5
Subscribe to my blog and follow me on Facebook | Instagram | Pinterest.
DISCLAIMER
I'm not here to degrade any brand or any product. I just stated my experience with this product. It might work for you guys but it didn't work for my skin
Stay tuned
Xoxo