Body lotions are vital in order to have a smooth and glowing skin. Today am back with the review of body lotion from the brand GOOD VIBES.  I have reviewed the Ryaal make me glow face mask in my previous post, you can check that here. I bought Good vibes aloe vera soothing body lotion back in December.  I'm using this regularly for past 2 months and came up with this review.
PRICE
Rs 195 for 200ml of the product. It is available only at purple.com. You can buy it here. It is in offer most of the time and I got this for Rs 125 as a launch offer.
Rating for the price: 5/5
INGREDIENTS
DM water, CCTG, glycerin, Iso propyl Myristate(emulsifier), Stearic acid(co emulsifier), Shea butter, Vitamin  E, 2-phenoxyethanol (fragrance & preservative), Cucumber extract, Lavender extract, Aloe vera, Sandalwood extract, Rose extract.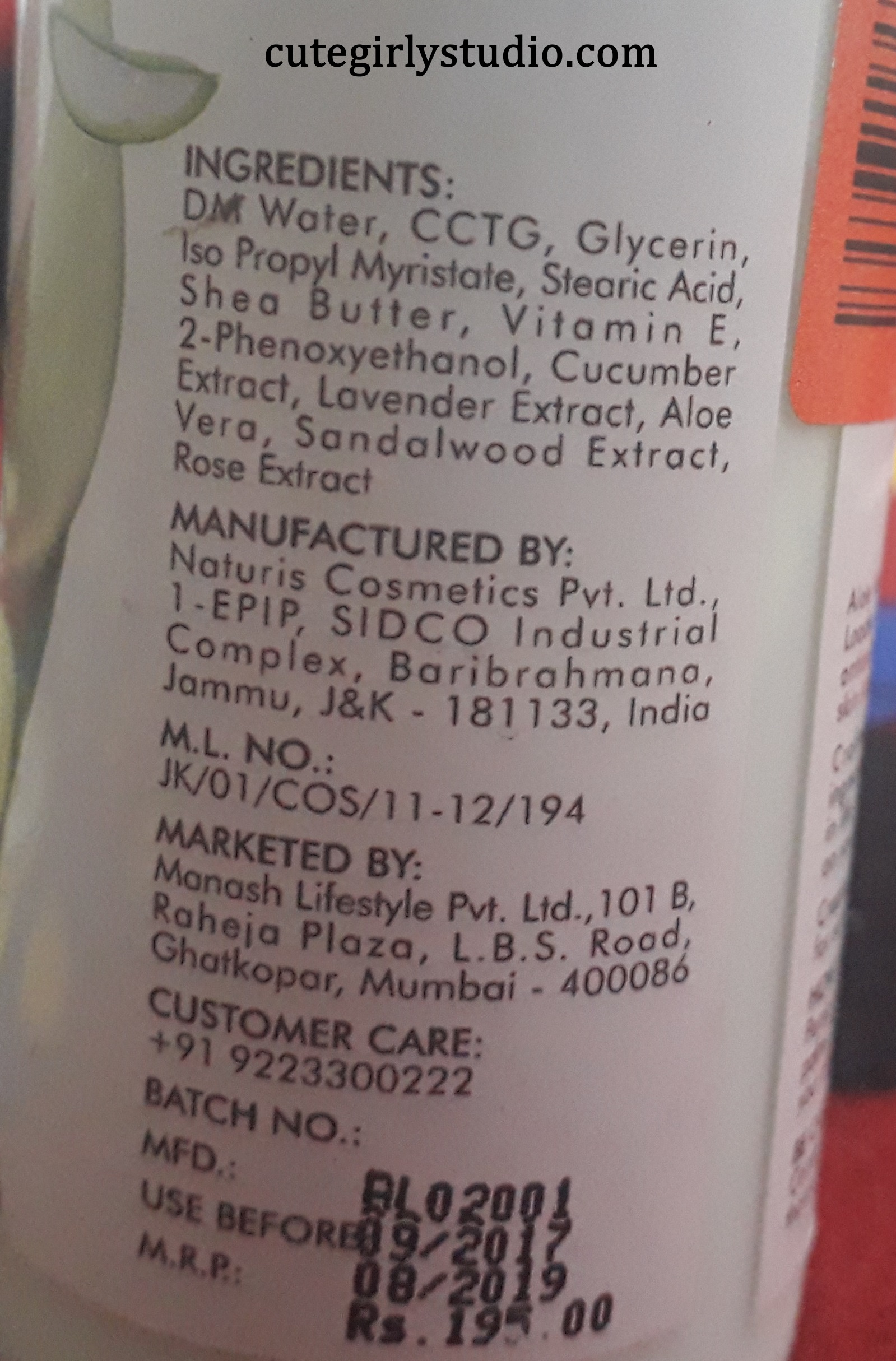 Rating for the Ingredients: 4/5
SHELF LIFE
2 years.
PACKAGING
The Good vibes aloe vera soothing body lotion comes in a tall cylindrical bottle with a pump dispenser. The pump dispenser has a lock mechanism and thus protects the body lotion from spilling. The pump lock mechanism is not on the point. Sometimes the pump dispenser gets collapsed and doesn't dispense the product. According to me the bottle is not bulky and the packaging is partially travel friendly.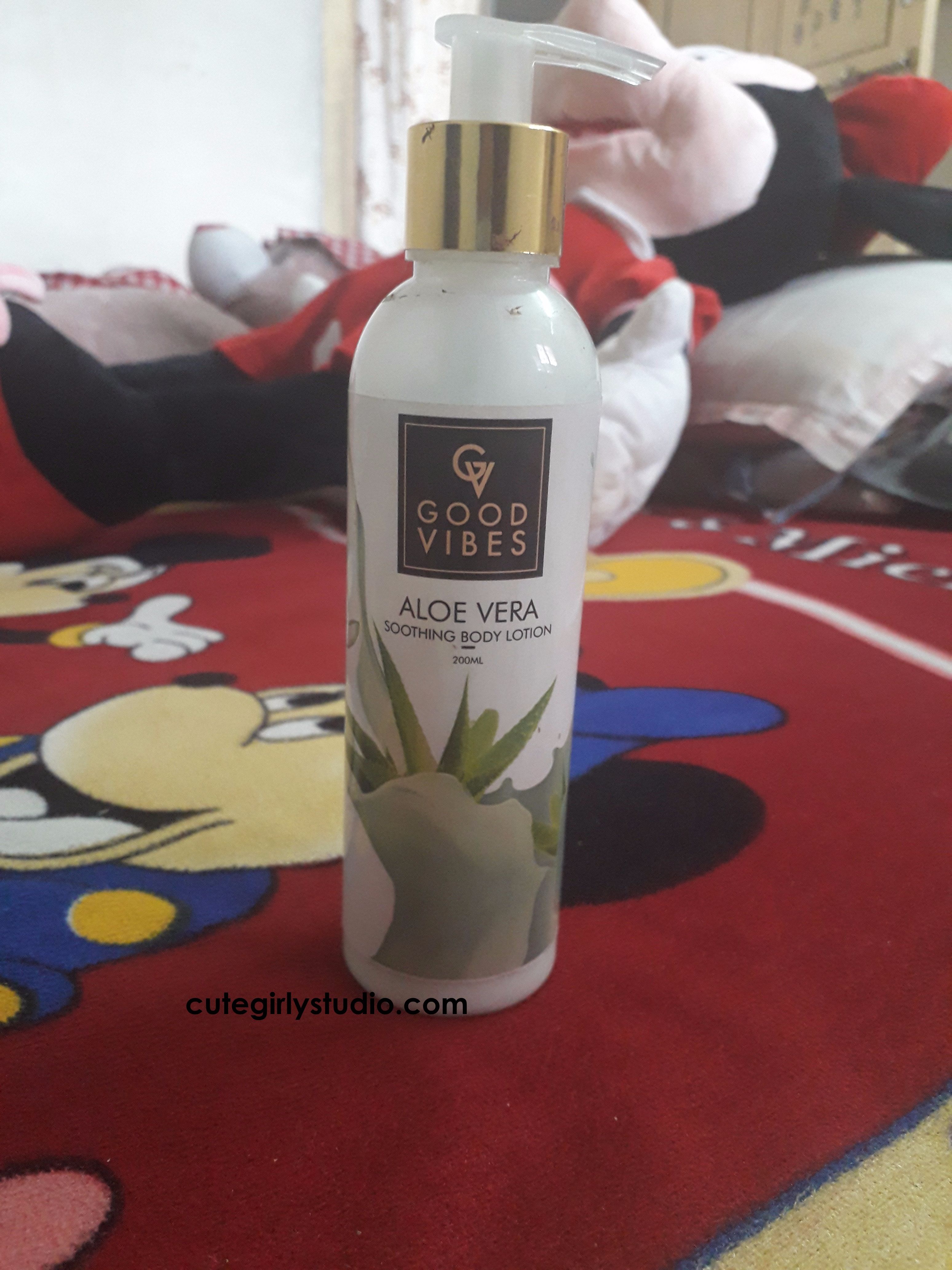 Rating for the packaging: 4/5
HOW I USE THE GOOD VIBES ALOE VERA SOOTHING BODY LOTION
When I bought the good vibes body lotion, only 3 variants were launched at that time. The variants available were aloe vera, Shea butter, and peach. Since I haven't tried any aloe vera based body lotion before, I bought this. The body lotion is pale green in colour and has mild fragrance which is slightly fruity and soothing. The consistency of this body lotion is runny and thin. It spreads easily and little goes a long way. The Good vibes aloe vera soothing body lotion gets absorbed into our skin quickly without leaving any greasy feeling which I absolutely love. I hate body lotions that leave my skin greasy and sticky. It is really a good option for those with normal to oily skin.
Though I have an oil-rich face, my body is extremely dry like a desert, so I always look for nourishing body lotion.  But this body lotion is not great when comes to moisturizing. If you have extremely dry skin then you have to reapply once every 4 hours. This is ideal for summer since we can't use thick and ultra moisturizing body lotion. Another thing that bugs me is the ingredient list. From my knowledge, 2-phenoxyethanol cannot be used more than 1% in a product which means that the cucumber, aloe vera, sandalwood and rose extracts are present in <1% which is almost negligible. So it is not going to nourish our body in long run. Overall I find this to be a good budget-friendly option for this summer.
PROS OF GOOD VIBES ALOE VERA SOOTHING BODY LOTION
Affordable.
Lightweight body lotion.
Gets absorbed easily.
Nongreasy.
Paraben free.
Little goes a long way.
Good for normal to oily skin.
CONS OF GOOD VIBES ALOE VERA SOOTHING BODY LOTION
Has natural extracts in a negligible amount.
Not for the extremely dry skin.
Not for winters.
CGS RATING: 3.5/5
Final Verdict
Good vibes aloe vera soothing body lotion is a great budget-friendly option if you have normal to oily skin. Even If you have dry skin, this is good for this summer. Give it a try if you want to try a new body lotion.
Will I repurchase?
No, I love to try different products.
Don't forget to subscribe to my blog. Follow me on Facebook | Pinterest| Instagram.
Stay tuned
Xoxo.