As long as I can remember, I've actually looked forward to dentist appointments. The one dental treatment I have never been able to get behind, however, is a professional whitening. Who doesn't love to flaunt their milky teeth!!. Currently owing to my busy schedule, I wasn't that timely with dental appointments. I recently noticed that my teeth were looking dull & slightly yellow. I looked for a solution online and every other person on internet recommended using activated charcoal to whiten their teeth naturally. So I got my hands on Deyga Charcoal Tooth Whitening Powder for my night time oral care. Read further to know my thoughts on this.
Product Claim/Product Description
Activated charcoal is a highly absorbent substance. It removes toxins from the mouth and removes stains. To the surprise, all of the black washes away and it makes your teeth feel extremely clean and smooth.
Price
250 INR for 100gm. Buy herehere
Ingredients
High grade activated charcoal powder, Baking soda, Himalayan Pink salt.
My Experience with Deyga Charcoal Tooth Whitening Powder
Packaging: This Charcoal tooth powder from deyga comes in a simple jar with a black screw-on cap.
Texture: It's a smooth powder. It doesn't have any abrasive salt particles that might potentially sensitive your teeth in long run.
Smell: Honestly I would say i doesn't smell like anything.
How to use:
Wet your toothbrush. I recommend using a second one that is separate from your main toothbrush because the head will get stained a black color.
Dip the head into the charcoal tooth powder.
Brush your teeth with it for 2 minutes, focusing on the front teeth or stained areas.
Effects on my teeth:  I am using this charcoal tooth powder for more than 2 weeks now. The charcoal tooth powder has definitely removed the discoloration. I use this in my night time oral care before hitting the bed. I expected the tooth powder to taste like salt but it didn't. So it is quite easy to use this tooth powder . I have used tooth powder earlier from different brand which taste like salt , the taste made me puke several times while using the product. So not having a salty taste is good for me. It leaves a slight black to grey  tinge on teeth which is quite common with charcoal powder based oral products.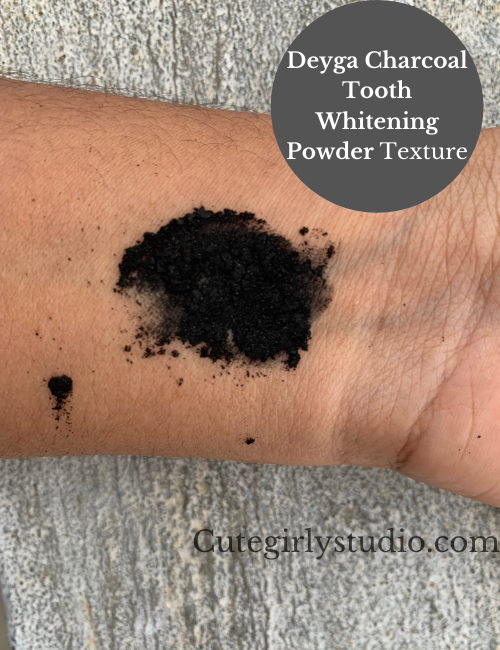 Pros of Deyga Charcoal Tooth Whitening Powder
Doesn't have a salty taste.
Reduces discoloration in the teeth within few applications itself.
Holds true to all its claims
Contains healing natural ingredients.
Just a little goes a long way.
Free of parabens.
 Not tested on animals.
Easily available online
Cons of Deyga Charcoal Tooth Whitening Powder
Leaves slight charcoal reside
CGS RATING

4.9/5