Hey guys.. hope you all are having a great day. Today am back with review of another product that I bought in my blue heaven haul. I have love hate relation with the blue heaven brand. I like some of their products but I also hate some of their products. Today am going to review Blue heaven silk on face powder.At first I thought that this product is a copy of lakme rose powder. Read on more to know about the product.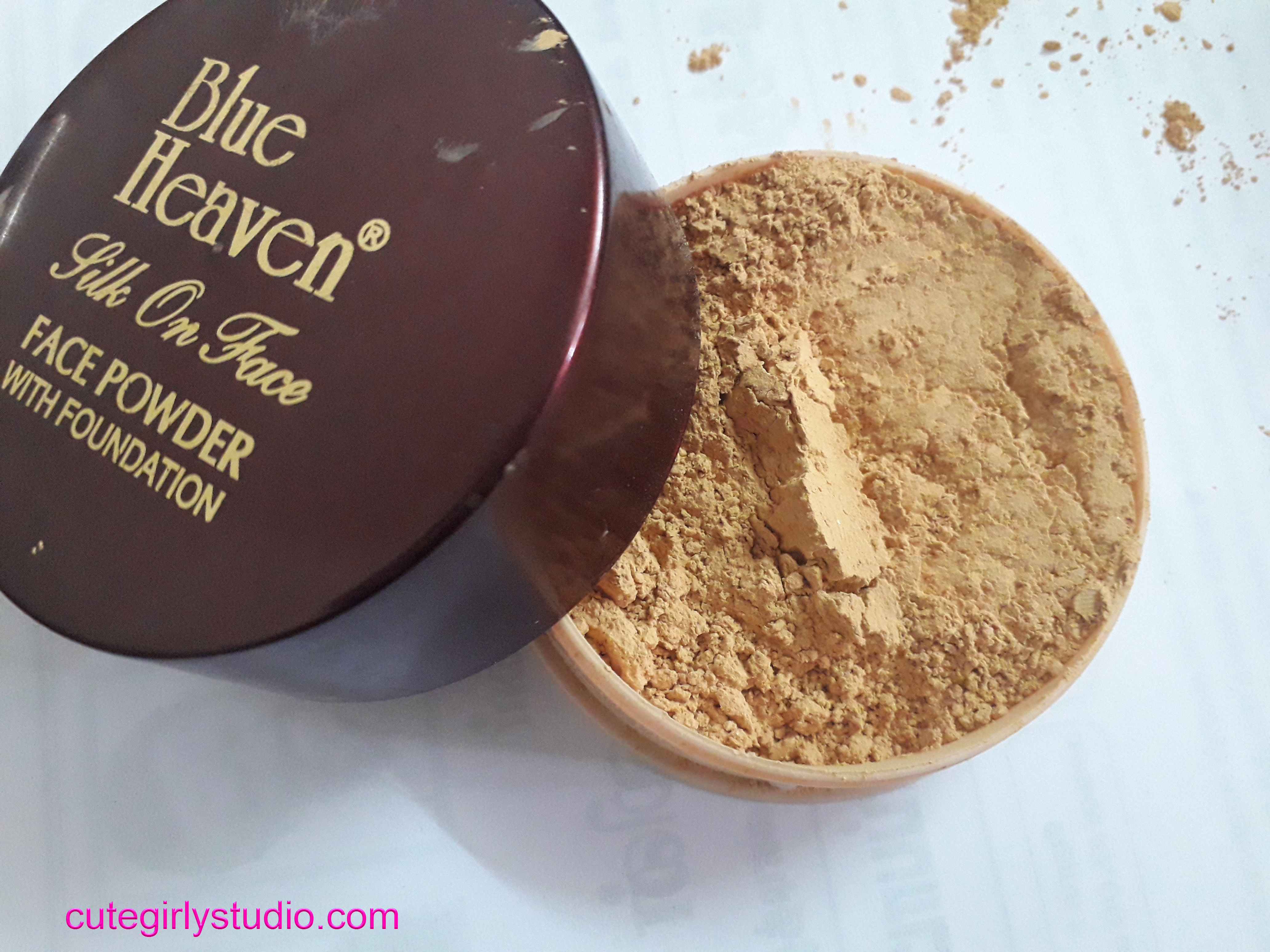 PRICE
Rs 105 for 40 gm of product. You can buy this product from here and here.
SHELF LIFE
3 Years
INGREDIENTS
Refer image below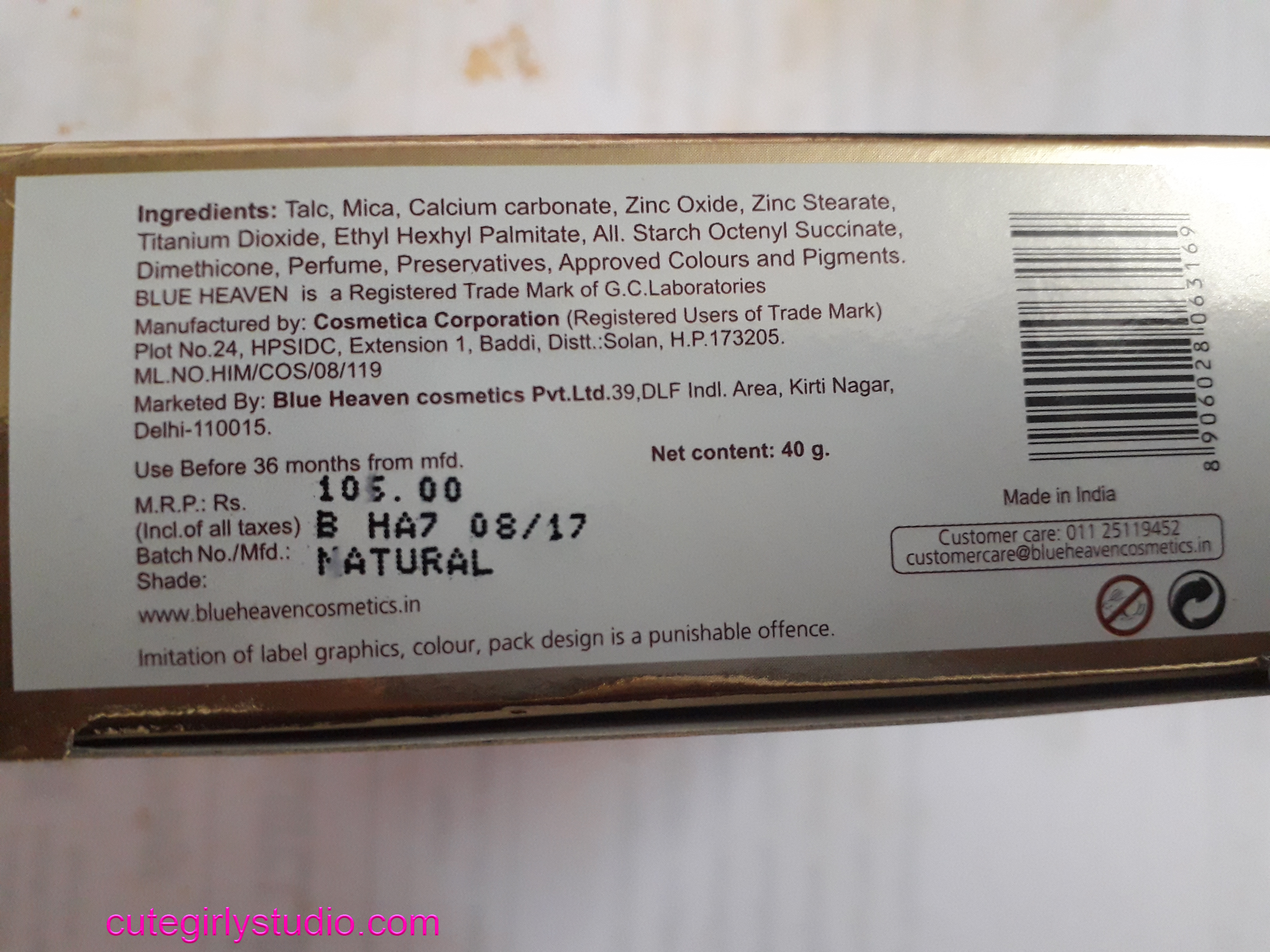 PACKAGING
The Blue heaven silk on face powder comes in a messy tub packaging. The tub comes in an outer cardboard that has all necessary information. I don't find the packaging convenient. Once you open the cap, the powder starts to spill which makes a great mess. The powder comes with a puff that is of no use. The packaging is similar to Lakme rose powder. Though the tub is sturdy, I don't like the packaging and I don't travel with this for sure. It will make a great mess once you open the tub after travelling. Overall the packaging is average. I would rate it 3/5 (3 for sturdy tub).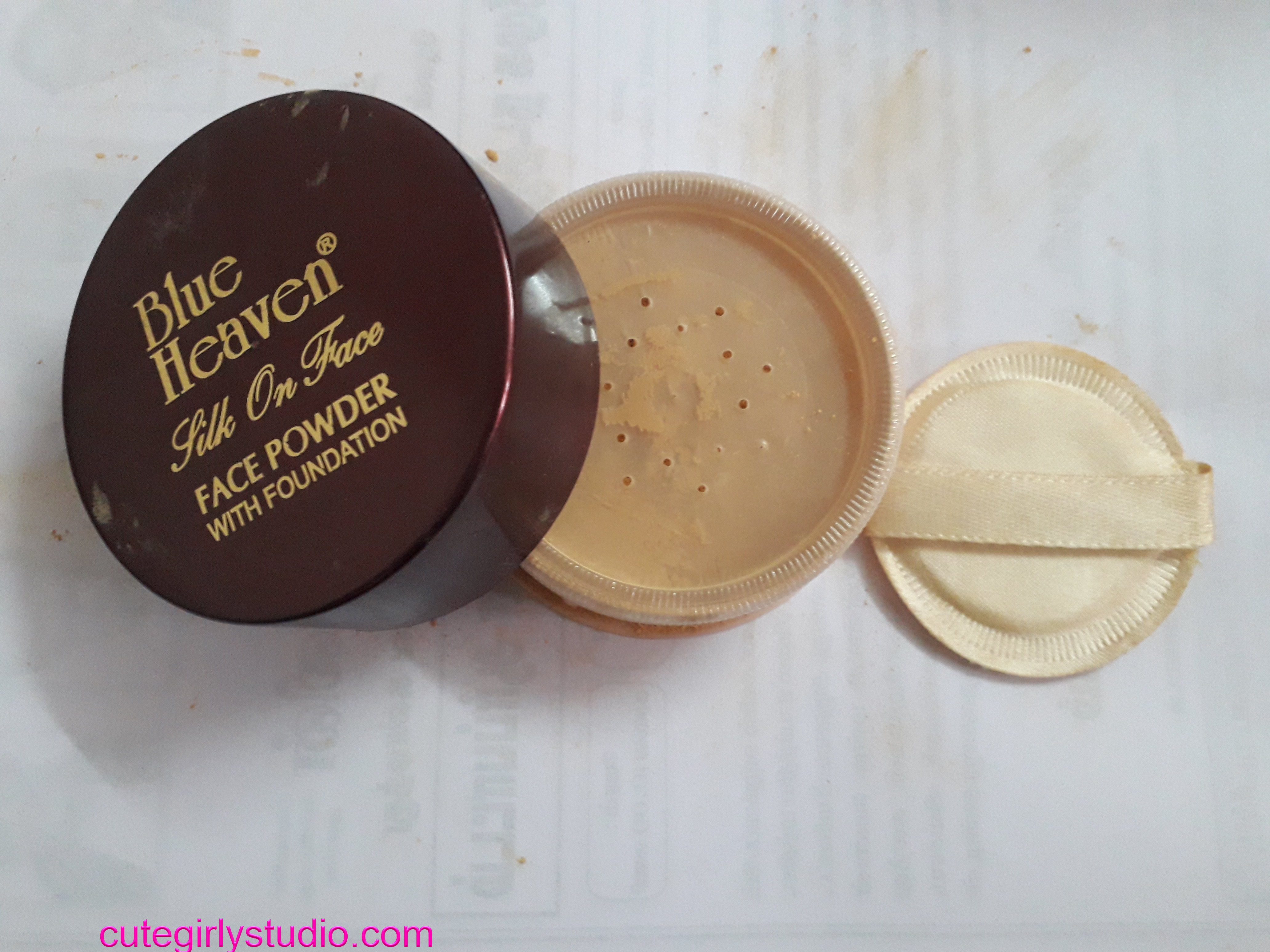 SHADES
The Blue heaven silk on face powder with foundation comes in the following shades,
I bought in the shade natural. I think blush will have pink undertones and dark tan will be beige in colour. The shade natural has slight orangish undertone with some yellow undertone. I cannot say that the powder has yellow under tone or orange undertone, it is a mix of both. This shade will suit most of the girls with warm undertone. Overall there is nice shade selection. I would rate this 5/5
TEXTURE
The Blue heaven silk on face powder is finely milled like any other loose powder. It is soft in texture and it is easy to work with this powder. This silk on face powder spreads easily and gives silky smooth finish. The loose powder has pleasant smell that fades as soon as we apply it. Personally I don't like products with fragrance. Since most of the time products with fragrance will break out my skin but this doesn't break out.Overall it has nice texture. I would rate it 4/5
STAYING POWER AND COVERAGE
The blue heaven silk on face powder has average staying power on my oily skin. It stays on my oily skin for about 3 to 4 hours. The powder doesn't control oil for long time. My face turns oily within 3.5 hours of application. If you are someone with dry to normal skin then staying power of this powder will increase for sure. The Blue heaven silk on face powder claims to have foundation in it so I expected it to cover some imperfections. The powder covers some minor flaws in my skin. I don't say that this covers my acne scars but it definitely covers up my tiny spots that I have here and there. It also reduces the intensity of my acne scar and am really impressed. The coverage is between sheer to medium. This powder is perfect for daily wear since it is affordable and also it has some coverage. After application of this powder my skin feels smooth and the finish is somewhere between natural and matte. This is neither matte nor natural. Overall I like the finish and coverage of the loose powder. I would rate this 4/5
PROS OF BLUE HEAVEN SILK ON FACE POWDER
Affordable
Has 3 shades.
Cover minor imperfections.
Has pleasant smell.
Makes skin smooth upon application.
Has smooth and soft texture.
It doesn't clog pores.
CONS OF BLUE HEAVEN SILK ON FACE POWDER
Messy packaging.
Doesn't control oil for long hours.
OVERALL CGS RATING 4/5