Hey guys..
Today am back with review of skin polishing scrub from yami herbals. If you follow me on Instagram you will know that I bought this few weeks back. After using this for sometime am here to review this for you guys. I bought this along with their hair oil which I will review later. Today am going to review their skin polishing scrub. Yami herbals is an herbal brand that has skin and hair care products which are handmade. Earlier I have used their herbal hair pack and I liked it a lot. Their products are 100% herbal and free from harmful chemicals.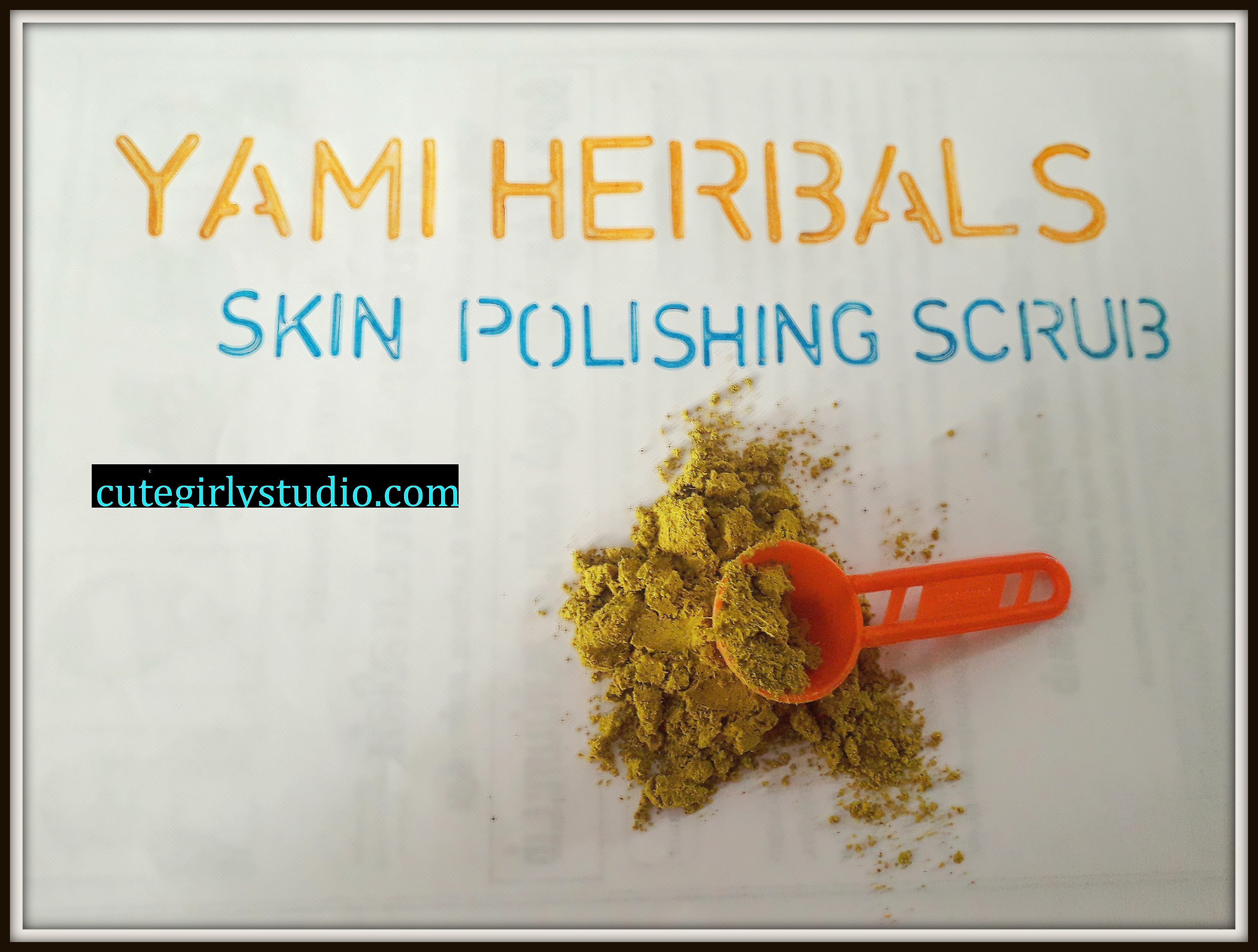 PRICE
The price of the scrub is 160 INR for 100 gm of product. You will have additional shipping charge depending upon your location. You can buy this from their face book page here, Or you can whats app them in this number 7358813032
SHELF LIFE
1 Year
INGREDIENTS
Green gram, white turmeric, wild turmeric, rose petals, avarampoo, vasambu, shikakai, lemon peel, neem leaves, samba wheat, sandalwood, badam, pistah, cinnamon, orange peel, cucumber seed, oats, potato starch and pudina leaves.
PACKAGING
Yami herbals skin polishing scrub comes in a pouch and the pouch itself comes in a plastic container. You can empty the contents of the pouch to the plastic container once you receive it. Since the product comes in courier, they have taken atmost care in packaging. The plastic container comes in an outer sturdy cardboard. The product reaches you safely. Overall I like their packaging. I would rate this 5/5
TEXTURE AND SMELL
Yami herbals skin polishing scrub is in powder form. You have to mix this with milk, curd or with any other fluids. Since I have acne prone skin I use organic honey to mix this. The texture of the scrub is perfect for exfoliating. The texture is not harsh so sensitive and acne prone skinned beauties may also use this without any fear. Actually the scrub is mild in my opinion. The skin polishing scrub has strong herbal fragrance which doesn't bother me. But this doesn't mean that everyone likes strong herbal smell in their product. But I don't mind the smell since the scrub doesn't have any artificial perfume. I would rate 4.9/5 for texture and smell.
HOW I USE THIS
Yami skin polishing scrub is a 2 in 1 product for me. I use this as both face mask and also as face scrub. I take 1 spoon of scrub and then mix it with some honey and apply this all over my face and neck. Initially I have mild tingling sensation that lasts for few seconds (say 5 to 10 seconds). Now I leave this for about 15 to 20 minutes. Meanwhile I do my blog works most of the time. After 20 minutes I will wet my finger and then scrub it for about 1 minute and wash it with cold water.
I'm having acne prone skin and most of the time store bought scrubs increases acne problem so I stick to my DIY face scrubs, but this scrub dries out my pimples and soothes any redness. The cinnamon and wild turmeric in the face scrub helps to cure acne to a great extent. After washing my face, I can see healthy glow on my face. Most of the time herbal products take time to show results, whereas with this skin polishing scrub impressed me with the first use itself. To be honest, I wasn't expecting much from a herbal scrub, but this face scrub proved me that I was wrong. When I used this for the first time, I had 1 big pimple on my cheeks, after using this the size of the pimple reduced and it started to dry. Now I'm using this regularly and I hardly have big pesky pimples. The ingredients of the face scrub helps you to give permanent results. I would highly recommend this to anyone out there. Yami herbals skin polishing scrub is definitely a try worthy product. I would rate this deserving product five out of five.
PROS YAMI HERBALS SKIN POLISHING SCRUB
Extremely affordable.
100% herbal.
Cures acne (in my case)
Gentle on skin.
Suits even sensitive skin.
CONS OF YAMI HERBALS SKIN POLISHING SCRUB
Availability( which is not a major con since most of us do online shopping now a days).
NOTE
This post is not a sponsored post and all opinions stated above are from my personal experience with this product.
CGS RATING 5/5