Bridal makeup isn't one of the highest wedding-related search keywords on Google for nothing—it's only one of the most important decisions you take for one of the biggest milestones of your life. While it's clear that your bridal lehenga or Saree is top priority for when you go shopping, it helps to remember that the outfit is guaranteed to look as good on your wedding day as it did at your fittings, but your makeup is a whole other ball game.
You have to be able to trust in either your own skills or pick the right makeup artist, who is able to translate your exact vision onto your face for one of the most photographed days in your life. In this post, I have shared few makeup tips from my very own experience.
PAIR YOUR BRIDAL MAKEUP WITH THE OUTFIT
If you're wearing muted tones for your clothes, picking a bright red or pink lipstick might not be the best call. Instead, pick a darker hue from the same colour family, and accentuate your eyes with a dramatic eyeliner. If you're wearing solid colours like a black or a dark blue, play up either your eyes or your lips—you don't want very dark makeup to make you look dull either.
Impt bridal makeup tip – CHOOSE EYE MAKEUP CAREFULLY
Bridal eye makeup can be very tricky. Too much can make you look tired or garish, while too little can be underwhelming. If you'd like to keep the attention at your eyes, incorporate features like a winged eye or a dark smoky look and false eyelashes into your bridal eye makeup.
If you prefer a bold lip, go easy on your eye makeup and opt for brown hues as opposed to black, highlight the inner corners of your eyes to make them look wider, and add individual long lashes as opposed to thick sets.
Then If you're adding glitter to your bridal eye makeup, make sure you don't overdo the dewy finish of your skin with the highlighter, so that your face doesn't look like a shiny disco ball.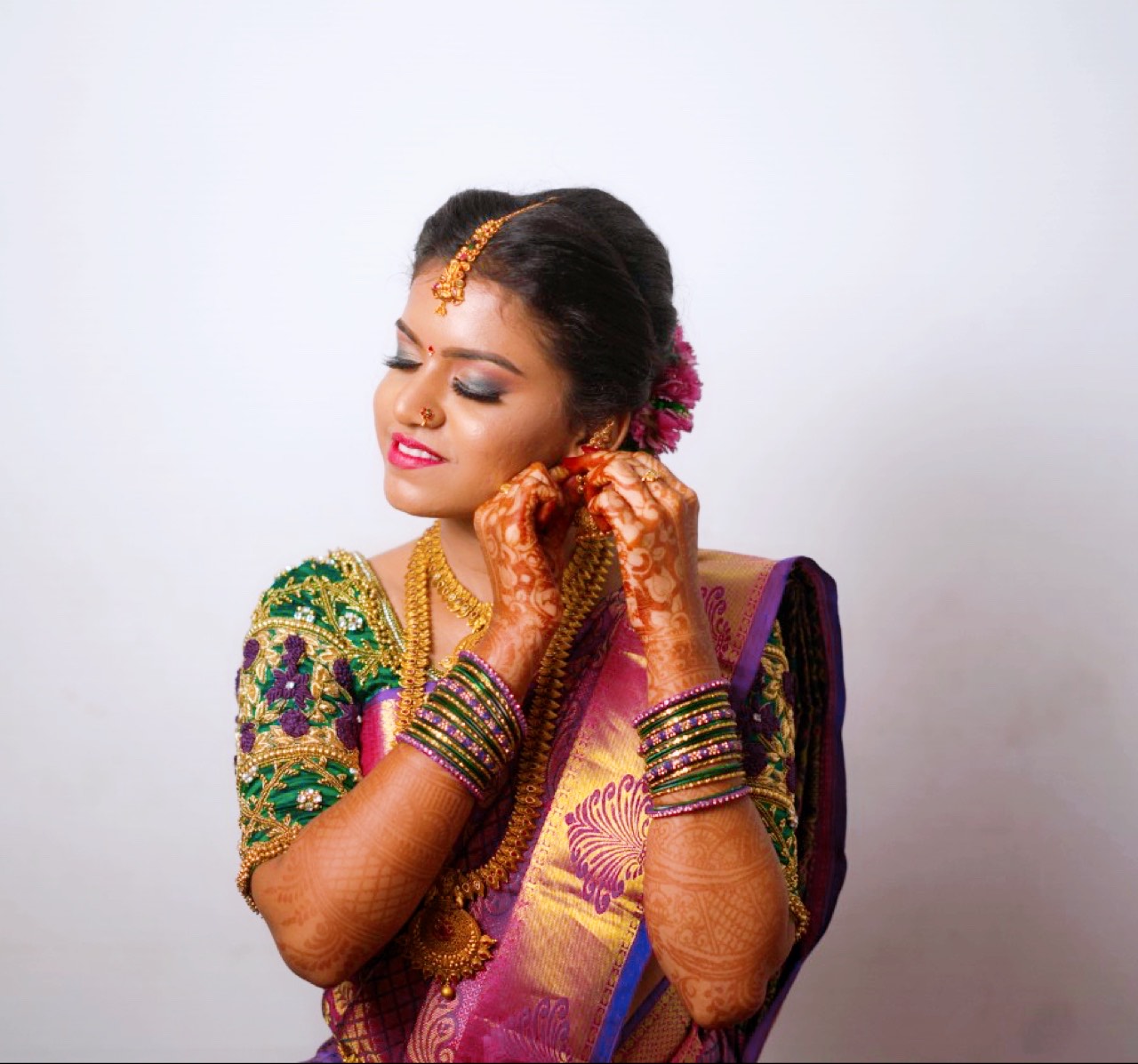 Impt bridal makeup tip – CHOOSE YOUR BASE WISELY
It might be tempting to follow the latest bridal makeup trends. But it is necessary to consider your skin type before choosing the base finish. Now in south India, it is a trend to have extremely dewy base makeup. If you have oily skin type, then keeping your base dewy will not be an good option.
The humidity and the natural sebum produced by our skin will keep the foundation gliding which is the last thing that we want on our D-day. When I was getting my trial makeup done, I opted for dewy base initially and it wasn't feeling good for my oily skin. So I switched to matte base and finished it with extra highlighter and dewy setting spray. It looked good on me and also the base doesn't feel like it's gliding all over my skin.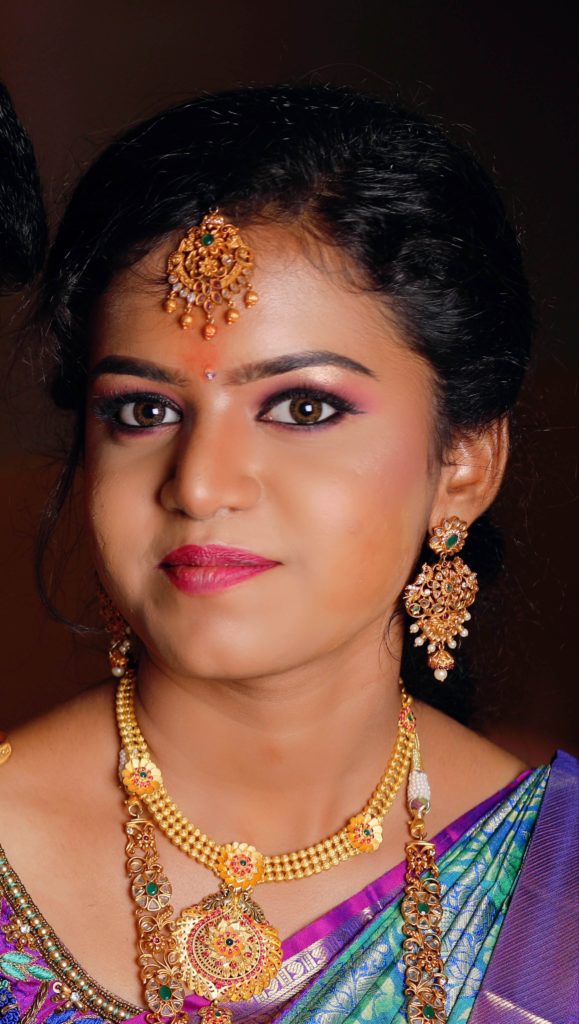 So consider your skin type and weather before deciding the base.
WEAR CONTACT LENS BEFORE MAKEUP
Most of the brides opt for using contact lens on their D-day. If you are using one, then use it before makeup so that even if your eyes become watery , it won't ruin your makeup. Mostly, people will wear lens before makeup, but I have seen some bridal MUA videos where they ask the brides to wear contact lens after finishing their makeup, that's the reason I'm adding this point.
CHOOSE THE EYE MAKEUP CONSIDERING THE TIME OF YOUR WEDDING
My marriage was an early morning wedding. I want to be ready by 4.30 AM. And,  I barely had sleep the previous night owing to the reception and photo shoot. I slept just 30 minutes and it showed on my eyes. Since I considered this situation earlier, I opted for an eye look that doesn't exaggerate my sleepy eyes.
HAVE SOME BASIC MAKEUP AND TOUCH UP PRODUCTS WITH YOU
Always keep a makeup pouch that has the following things.
Good compact of your shade
Lip balm
Lipstick that goes well with your outfit
Alternate lightweight earring
Having lipstick helps if at all your lipstick wears off and the MUA have left the place. You yourself can remove the patchy lipstick and wear a fresh one.
Impt bridal makeup tip ENHANCE YOUR FEATURES INSTEAD OF GOING BY AN IMAGE
I have seen many brides want the MUA to replicate the reference image that they have. Yes, the model on the image might look ravishing in that makeup look, but that doesn't mean that it has to look good on our self. I would suggest the brides to enhance their best feature in order to look ravishing.
These are some of the bridal makeup tip that I wanna share. Thats all for this post guys.
Xoxo