Hey guys.. After a small break am back today with a post for you guys. I shared DIY hair mask in my previous post, don't forget to check that guys. Am back to my college after my holidays and I don't know if I could be regular in posting . But I try to contribute some time to my beloved blog. OK without much talk I get into the point. I purchased dome skin care products from purplle.com. You can expect reviews of those products in my upcoming post. Today I'm going to review lip balm from the brand Stay Quirky which is in the shade I like it cherry much. Stay Quirky products are available at purplle.com and they have wide range of products. Their products include nail polishes, kajal, lipsticks, foundation, lip balm, eyeliner. This is the first product that I'm trying from this brand.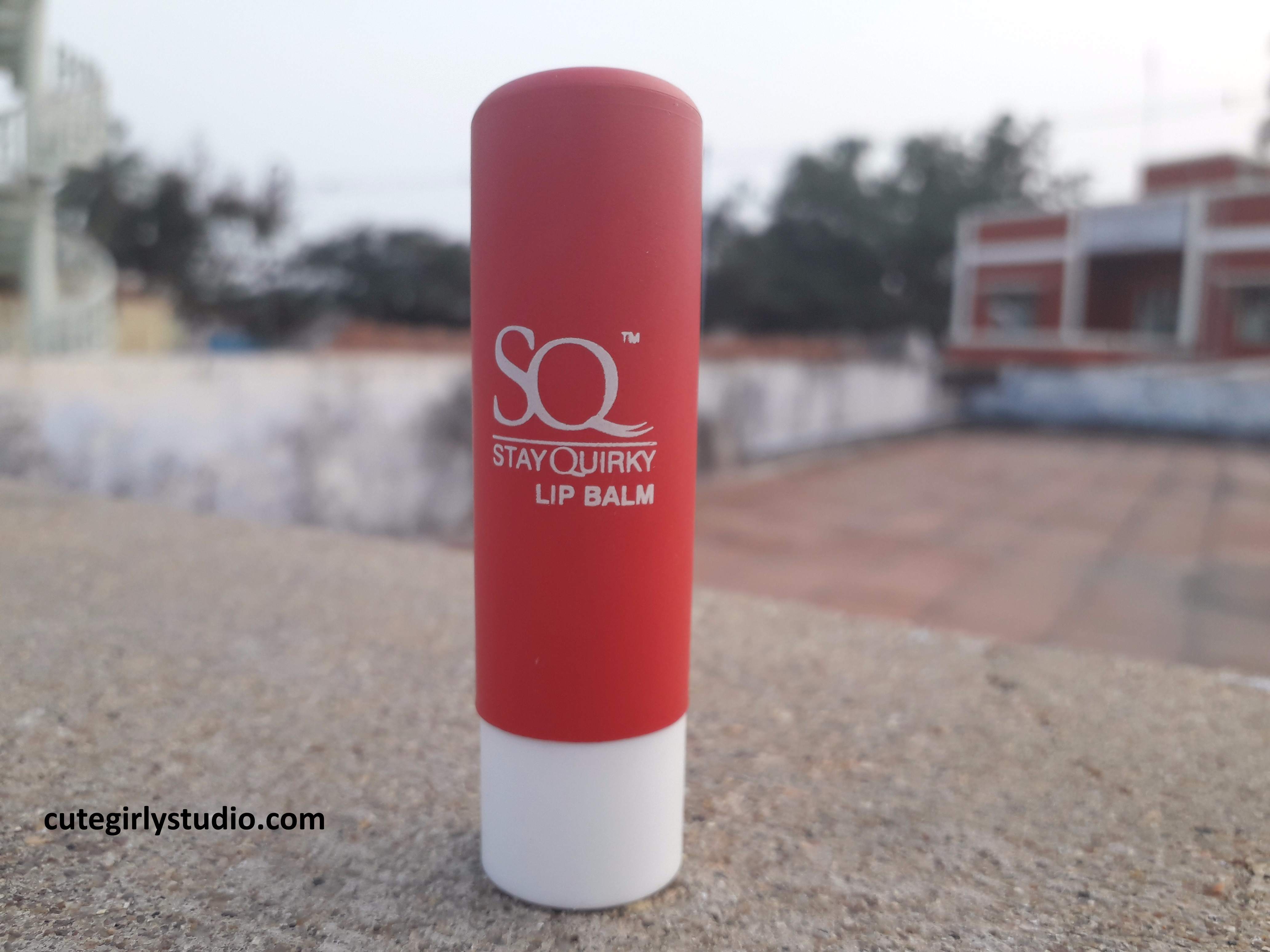 PRICE
Rs 155 for 4.5 gm. It is available for RS 99 now after discount.  You can buy this here
SHELF LIFE
24 months.
INGREDIENTS
Olus oil, microcrystolline wax, sunflower wax, propylene glycol dibenzoate, candelilla wax, cornauba wax, parrafin wax, ozokerite wax, vitamin E acetate, propyl paraben, Flavour.
PACKAGING
The product comes in a twist bullet case. The container having lip balm comes in an outer cardboard that has all the necessary information. The ingredient list, manufacturing date and all other details are mentioned in the cardboard. The twist bullet lip balm container is not so sturdy. The cap just slides and doesn't give secure feeling while travelling, since the cap may open easily when you are travelling. The colour of the cap is exactly same as the colour of the lip balm. So you can easily find a particular shade if you are owning more than 1 lip balm from this range.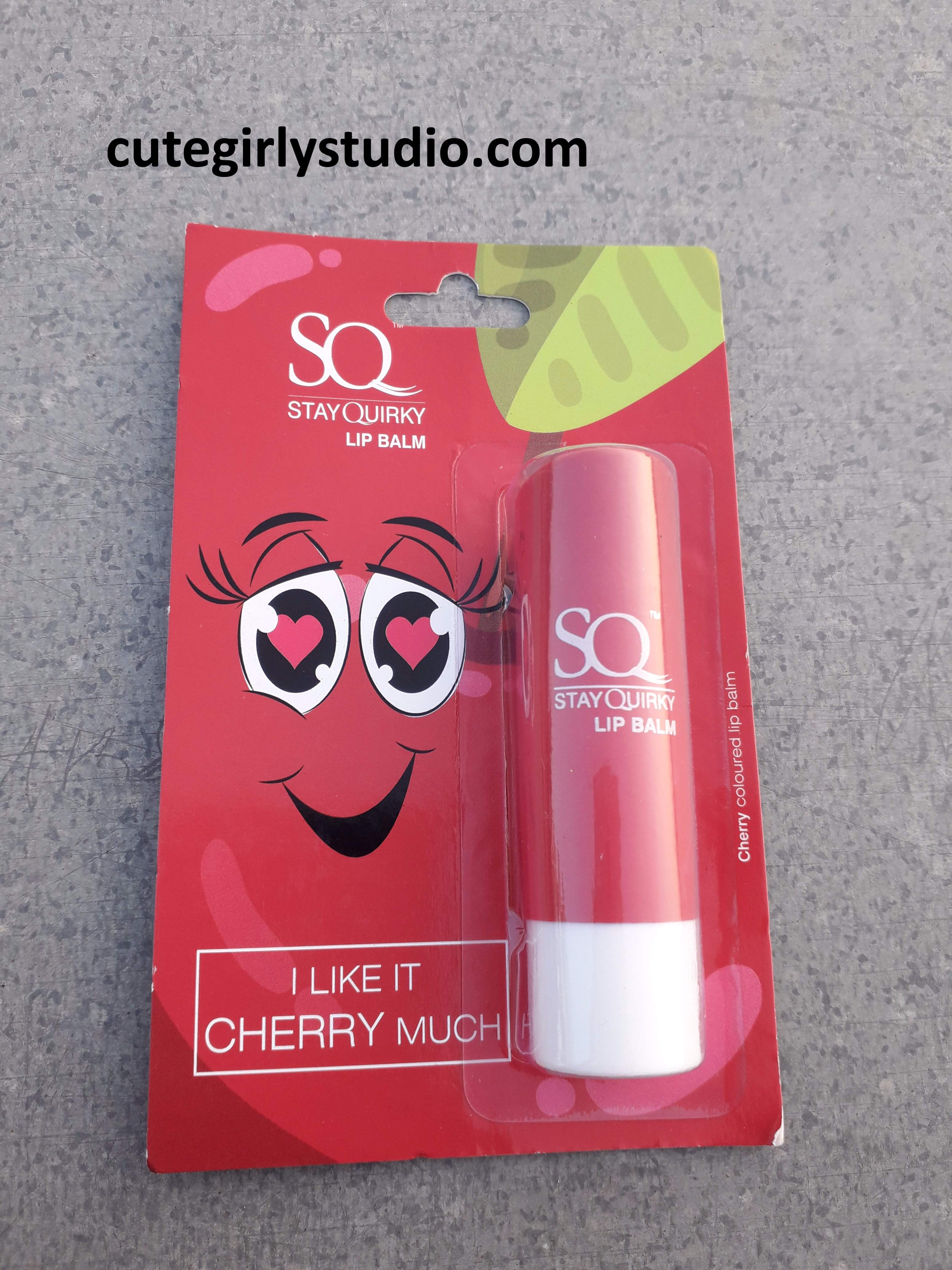 SHADE AND FRAGRANCE
The shade that I bought is I LIKE IT CHERRY MUCH (2). There are 3 more shades available. This particular shade is pink with red undertones. I can't put the exact shade into words. The shade is a mix of pink and red which is pretty. This shade definitely suits most of the complexions. The lip balm is super pigmented that you can even skip lip colours if you are in a hurry. I like this shade a lot.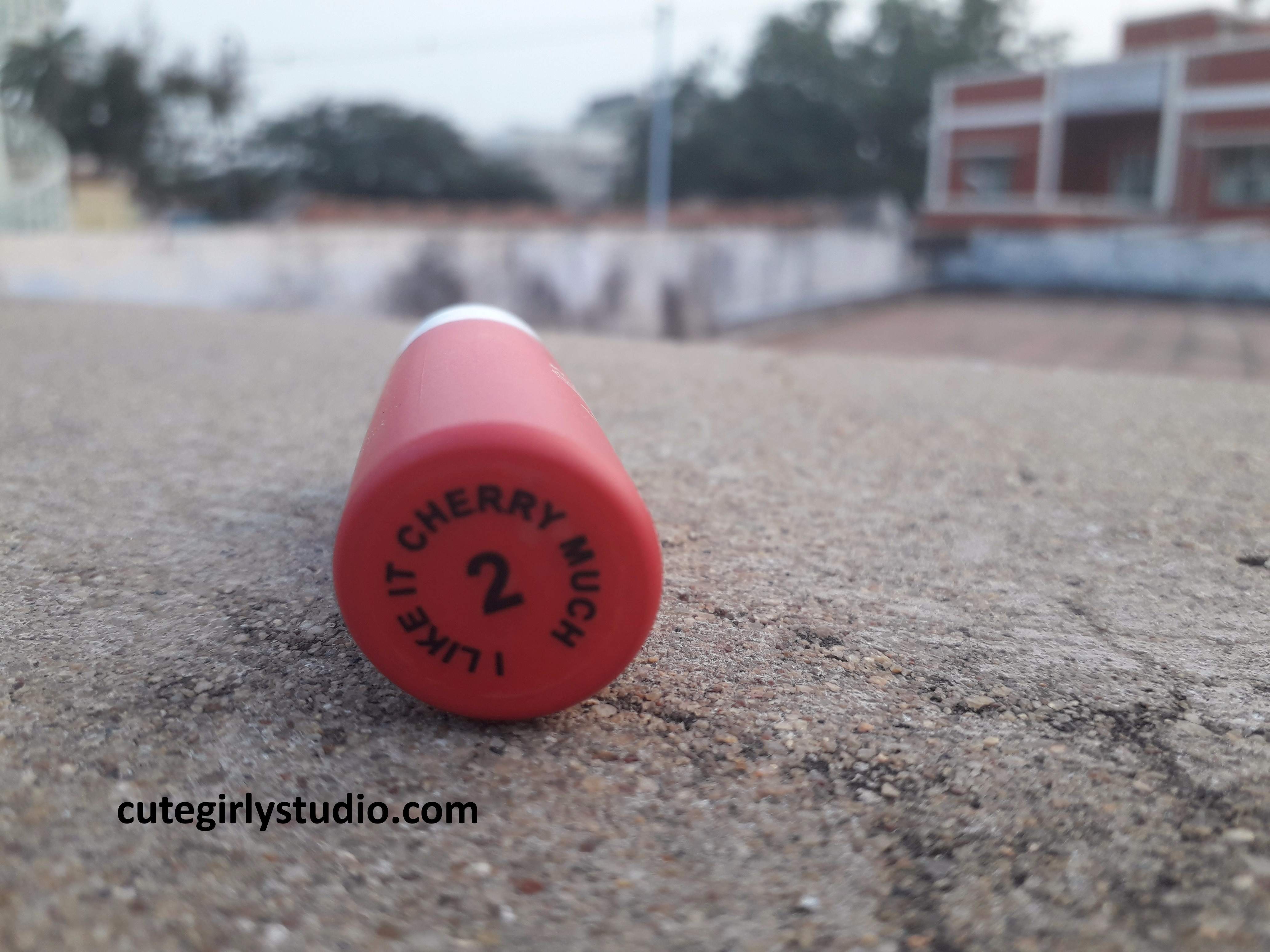 Next comes the most important con of the product. This Stay Quirky lip balm has strong fragrance that I don't like personally. The fragrance is similar to cough syrup that is of strawberry flavour. I had a cough syrup with similar fragrance. The fragrance fades after application.
Does Stay Quirky lip balm moisturizes lips well?
The lip balm glides buttery on your lips. It gives beautiful tint to your lips. It also moisturizes your lips. But I won't say that this is super moisturizing, it moisturizes my dry lips well but if you have chapped extremely dry lips then you won't like this. This is definitely not a heavy lip balm, it feels light on your lips and hydrates your lips.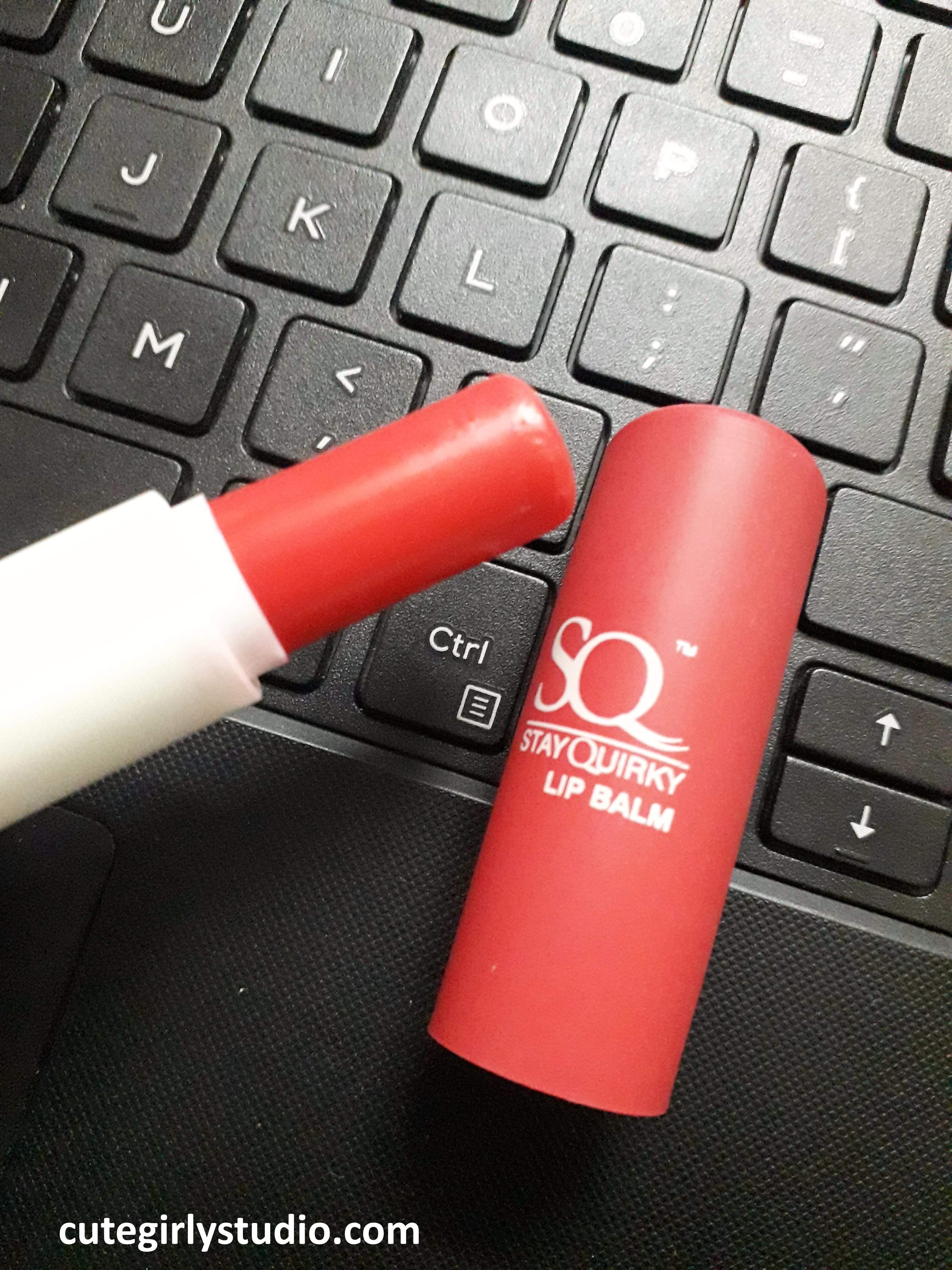 I don't like to wear heavy lip balm that are super glossy when am out. I prefer using this when am out and use heavy lip balms when am at home. If you have normal to slightly dry lips then you will love this lip balm for it's hydrating properties and the finish it gives. I hate to wear super glossy lip balms that are too heavy when I'm out, so I prefer hydrating lip balms. If you are like me then you will like this.
This Stay Quirky lip balm hydrates your lips and reduces the appearance of fine lines in your lips. It gives nice colour to your lips along with it gives smooth finish to your lips. The staying power of this lip balm is like any other lip balms, it stays on my lips for about 4 to 5 hours. If I eat any greasy foods then the staying power reduces.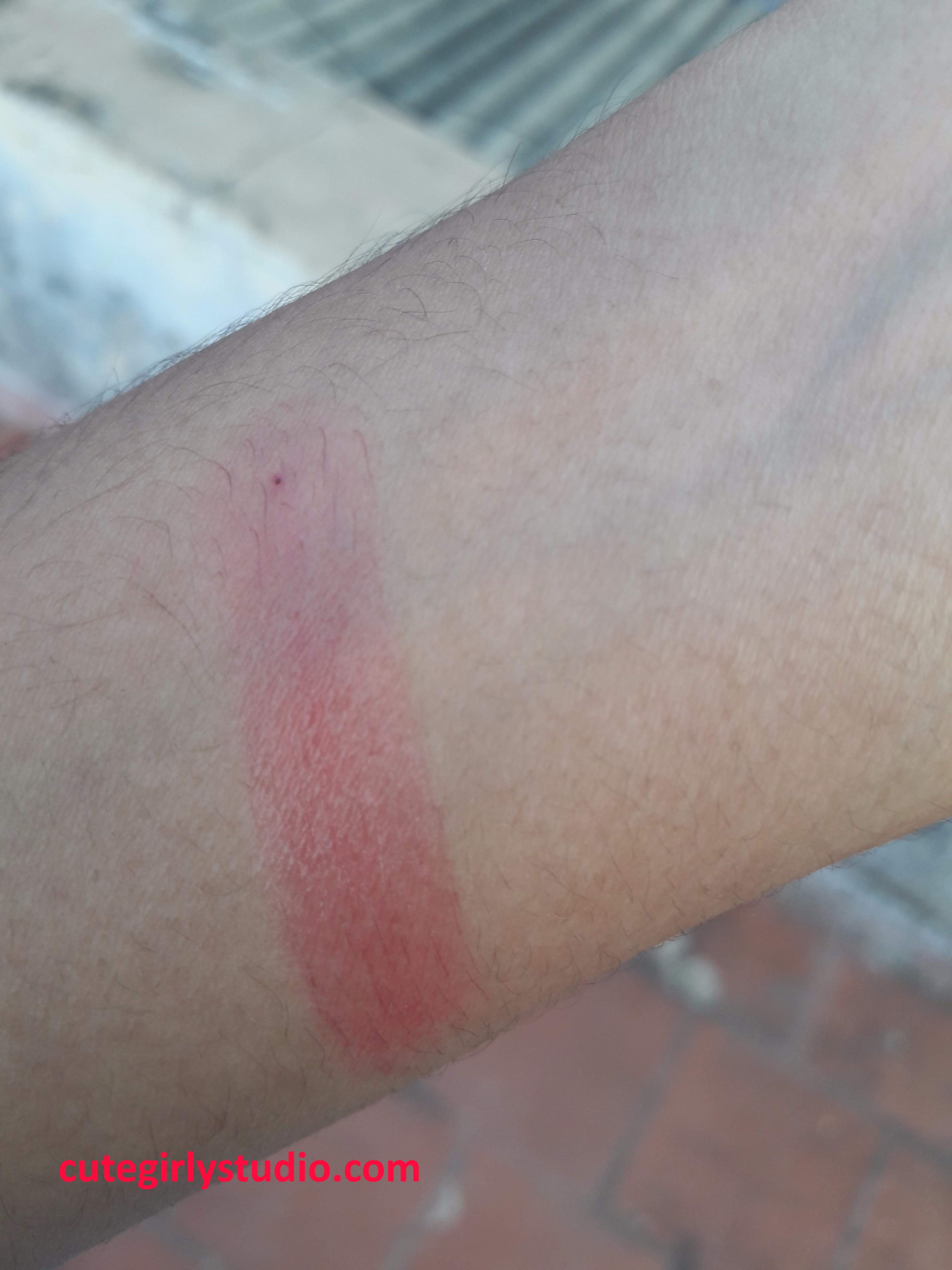 Overall Stay Quirky lip balm – I like it cherry much is a good budget lip balm and is definitely a try worthy product.
PROS OF STAY QUIRKY LIP BALM
Affordable.
Has good staying power.
Has good pigmentation when compared to many other lip balms.
Gives smooth finish to your lips.
Hydrates your lips.
Feels light on lips.
Moisturizes dry lips.
CONS OF STAY QUIRKY LIP BALM
Has artificial fragrance that I personally hate.
Has paraben.
Not for extremely chapped lips.
DISCLAIMER
This is not a sponsored post and the product is bought with my own money. I shared my personal experience in this post.
CGS RATING 4/5
Subscribe to my blog.
Follow me on Facebook | Instagram | pinterest .
Stay tuned..
Xoxo