Ubtan, traditionally, is the oldest and most pure form of a cosmetic that was ever created. Made with simple yet powerful ingredients, Ubtan is a magical cleanser that pampers your skin leaving it rejuvenated. It is so powerful that an entire wedding ceremony is dedicated to it, but hey, you don't need to get married to use it. Here I have shared an easy DIY skin brightening bath powder that helps to brighten and soften the skin.
THINGS WE NEED
HOW TO MAKE SKIN BRIGHTENING BATH POWDER (UBTAN)
In a clean bowl, add 1 cup of green gram flour and ½ cup of oats flour and give it a good mix. Our Ubtan base is ready.
Now add fenugreek powder, neem leaf powder, Kasturi turmeric and orange peel powder to our bath powder base. Give it a good mix. Now store it in an airtight container. Our skin brightening bath powder is ready to use.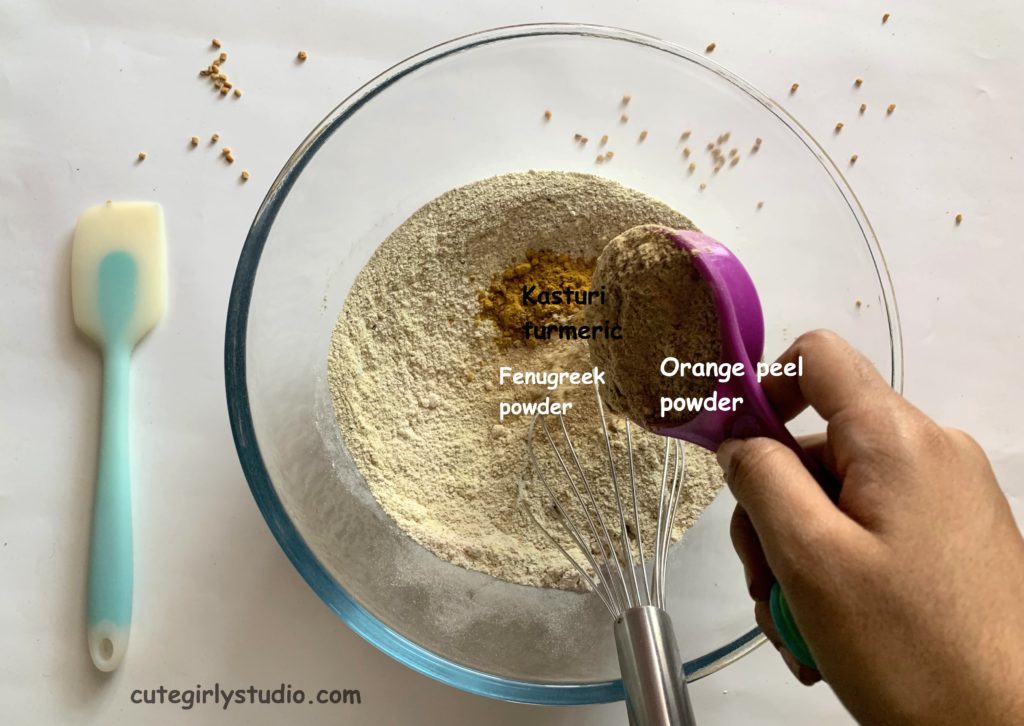 Shelf life – 5 months when kept away from moisture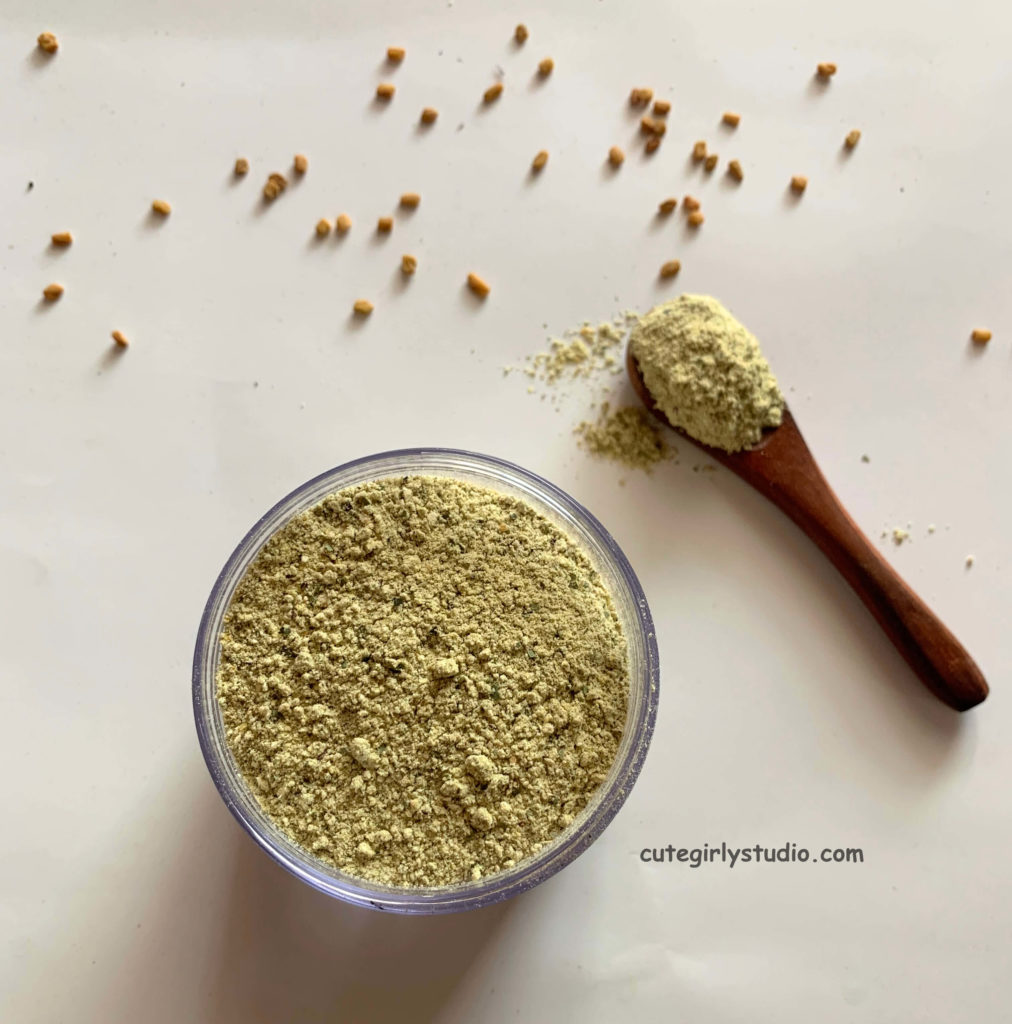 HOW TO USE OUR SKIN BRIGHTENING BATH POWDER
In a clean bowl take the required amount of bath powder, to this add milk if you have dry skin and rose water/ plain water f your skin is normal to oily.
Make a paste out of it and use this as your body cleanser.
BENEFITS OF THE INGREDIENTS IN THE UBTAN / BATH POWDER
Green gram flour
Green gram rejuvenates your skin by nourishing and exfoliating it. It removes the dead skin cells and brightens up the texture of the skin. Green gram is rich in vitamins A and C that helps in giving a healthy glow to the skin. It helps to reduce sun tan and also repairs the damage on our skin due to UV exposure. It prevents back acne and improves skin texture. Unlike chickpea flour, green gram flour is not drying on the skin.
Oats flour
Oatmeal has rich anti-oxidant properties and helps undo the damage done to your skin by pollution, UV rays and chemicals. Oats helps reduce itching and inflammation and can be used to calm eczema. Oats act as a natural cleanser and exfoliator by removing dead skin cells to reveal smoother, brighter complexions.
Fenugreek powder
The presence of vitamin C in fenugreek seeds lightens the skin complexion and gives it a beautiful glow. It works as a great non-drying cleanser. Fenugreek reduces acne and hyperpigmentation to a great extent. It is hydrating to our skin. With regular use, it makes our skin smooth and soft. It even tones the skin complexion.
Neem leaf powder
The neem leaves are naturally abundant in bioflavonoids, which are antioxidants known to protect cells and molecules from damage and signs of ageing. Neem can also clear away back acne when used in an Ubtan. Neem leaves moisturise your skin and make it soft and supple. It also helps lighten scars and pigmentation.
Kasturi turmeric powder
Kasturi turmeric improves skin complexion. It reduces sun tan to a great extent. It helps in brightening the complexion without inhibiting yellow tinge on our skin. It prevents back acne and any infection on our skin.
Orange peel powder
Orange peel powder contains Vitamin C which helps to form collagen and elastin which is the secret to beautiful skin. It reduces pigmentation and acne. It contains antioxidants which slow down wrinkles, sagging and skin ageing. Orange peel powder works as a natural cleanser, astringent, scrub, moisturizer and toner.
THINGS USED IN THIS DIY