.Hello Lovelies… Hope you all had a great diwali. Today am back with another article but this time it is not a review or a DIY. Today I came up with a beginners makeup kit article. You must have seen many affordable beginners makeup kit in you tube and in many other blog. I thought to share few products for viewers who are beginners, looking for a guide to choose make up products correctly. So read on more to see the product recommendations. When we say beginners makeup kit, affordable products comes to our mind. Since affordable products gives you the freedom to practice without thinking much.If you buy expensive products, you will end up wasting the product by practicing. So it is advised to buy affordable products as a beginner. Read my tips before choosing products since I have made bunch of mistakes while choosing products as a beginner. So i can help you in avoiding such mistakes.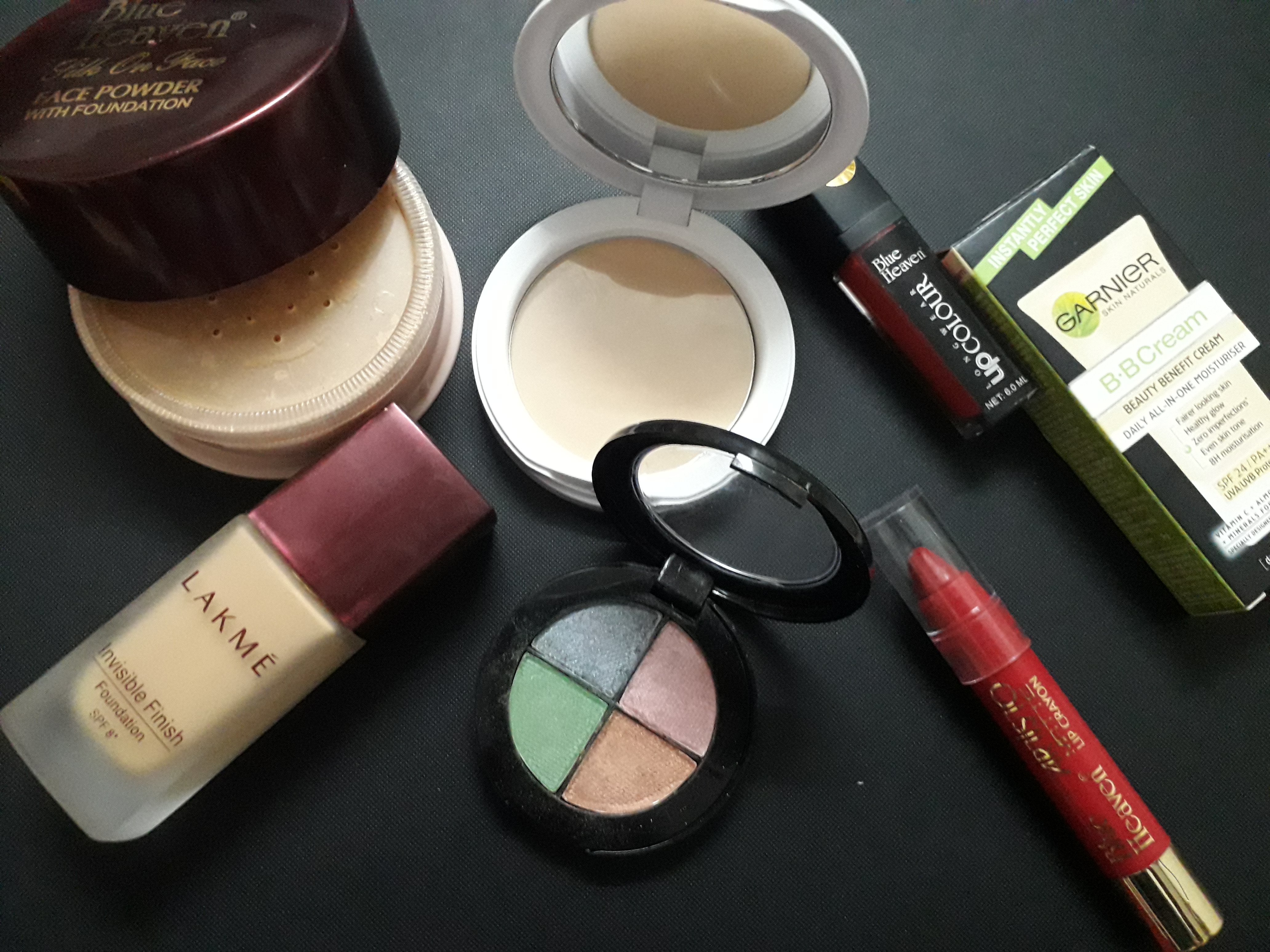 FOUNDATION
Foundation is the first product that comes to our mind when we say makeup. Our base must be perfect in order to have that healthy skin with makeup. If you choose base product wrongly then entire makeup goes wrong. So spend some time in researching your under tones and skin tones. Try to buy foundation from store since it will be easy for you to find the exact match. Don't stick to foundations that are very inexpensive, most of the time they are hard to blend or leave white cast on face. So I'll suggest you to have a budget of at least 250 for foundation. If you can't afford 250 INR then go for BB cream girls. I would recommend the following products,
Lakme invisible finish foundation.(great for oily skin)
Revlon touch and glow foundation.(great for dry skin)
Lakme perfecting liquid foundation.(suits all skin type)
Pond's BB cream.(suits fair skin well)
Garnier BB cream.(suits dusky skin well).
COMPACT / LOOSE POWDER
Compact or loose powder is a must when comes to makeup. You can even skip foundation or BB cream and use compact as base for everyday wear if you have only minor flaws on face. Compact powder is great for dry skin and loose powder is great for oily skin. But both can be used by all skin types. I would recommend following products,
Maybelline super fresh compact
Lakme radiance complexion compact
Lakme rose powder
Blue heaven silk on face powder
EYELINER
Next, Eyeliner is important part of our makeup.It makes our eyes to look pretty with a single streak of line. Beginners most of the time stick to good old black eyeliner, so i list out beginner friendly eyeliners.
Lakme insta eyeliner.
Elle 18 colour pops eyeliner
Blue heaven sparkling eyeliner
Street wear eyeliner
Eyetex dazzler eyeliner
Blue heaven sketch eyeliner
KAJALS / KHOLS
Kajals always take a place in every girls vanity. Most of the girls out there have their own favourite kajals before they start using compacts and bb creams, but i just list down few kajals that is loved my most of the girls.
Elle 18 eye drama kajal
Lakme eyeconic kajal
Himalaya herbal kajal
Faces magnet eyes kajal
EYESHADOW
As far as eyeshadow is concerned, I would suggest you guys to go with nude and warm colours since that won't show up your blending mistakes that you make as a beginner. So here are few products,
Maybelline the nudes eyeshadow palette
Blue heaven eyeshadow quads(not so pigmented)
Sivanna colours eyeshadow in brown
Sivanna colours eyeshadow in smokey
Miss Claire mono eyeshadow pots
MASCARA
Mascara opens up our eyes and makes it look way more attractive. You can opt for lengthening mascara or volumizing mascara depending upon your choice. But most of the girls prefer volumizing mascara. Here are my few recommendations,
Maybelline colossal mascara
Blue heaven walk free mascara
Eyetex dazzler mascara Lakme iconic mascara
LIP COLOUR
For lips, you can start with tinted lib balm and move to lip colours.
Avon naturals lip balm
Nivea fruity shine lip balm
Maybelline baby lips
If you want some lip products you can try these,
Lakme enrich matte lip crayon
Blue heaven artisto lip crayon
Elle 18 colour pops matte lipstick
Elle 18 colour boost lipstick
So these are my recommendations for you if you are planning to build your vanity. I haven't included concealer, highlighter, contour and even blush in this article. I will share it in next part. since if you are good at blending then you can easily work with concealers, blush , etc….
Stay tuned until next time
XoXo