Hey peeps!!! Hope you guys are doing well. It's been a while since I have posted a review on the blog. I took my sweet time to test a bunch of products from a couple of brands and you can expect some review posts in the upcoming weeks. Ok, Today I'm gonna review Greenberry organics mudash 3 in 1 mask scrub and cleanser. Though this product is not new in the market, I wish to write a review so that it would be helpful for beauties with my skin type.
MY SKIN TYPE – Dehydrated, oily skin.
SKIN CONCERN – Congested pores, acne and blackheads.
PRICE 558 INR for 100gm. PRODUCT LINK
SHELF LIFE- 12 months from opening the pack.
CLAIMS
Detoxifies the skin & helps in reducing pigmentation
Removes the excess oil from the skin plus stale sebum
Gives 2x relief from the pollution
Deeply exfoliates the skin by bringing out the dirt from the pores
For men and women
(FROM WEBSITE)
INGREDIENT LIST
HOW TO USE
Apply the mask over slightly damp face and keep it for 10 minutes. Gently scrub to exfoliate the face. Wash off with water and feel the freshness.
(FROM WEBSITE)
PACKAGING
The Greenberry organics mudash 3 in 1comes in a sturdy plastic jar with a screw lid in a cardboard box. The container is sturdy and thus it won't cause a mess if you plan to travel with it. The packaging doesn't look cheap at all. Both the container and cardboard box has all the necessary details printed. Overall I like the packaging.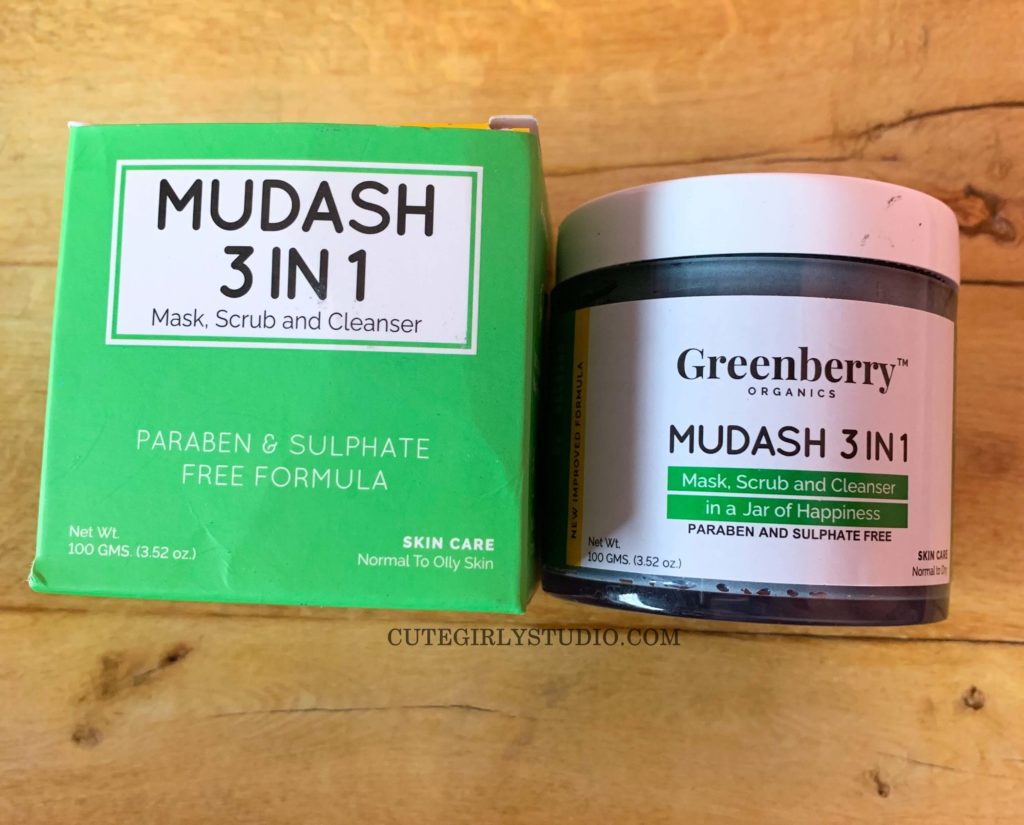 SMELL AND TEXTURE
The Greenberry Organics mudash 3 in 1 is bluish-grey in colour and has tea tree essential oil smell. Since this mask works as a scrub, it has tiny scrubbing particles. The texture of the mudash is slightly gritty.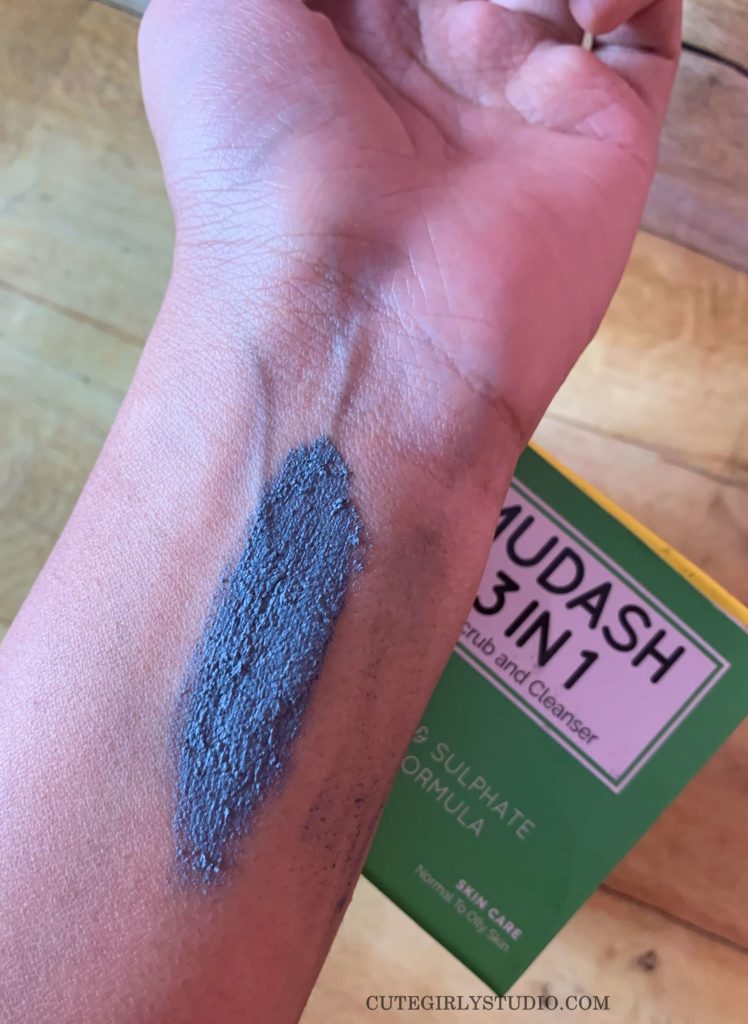 MY VIEWS ON GREENBERRY ORGANICS MUDASH
I use the Greenberry organics mudash 3 in 1 twice a week as a mask. My sebum rich skin needs detoxifying mask twice a week to keep it at its best. After oil cleansing my skin, I apply this mask on my damp skin and leave it for about 5minutes and then rinse it off with water. After washing my face, my skin feels fresh but slightly dehydrated so a hydrating serum or moisturizer is a must for me. While rinsing the face mask, it lathers mild and cleanses my face since it is formulated to act as a cleanser. It exfoliates my skin gently.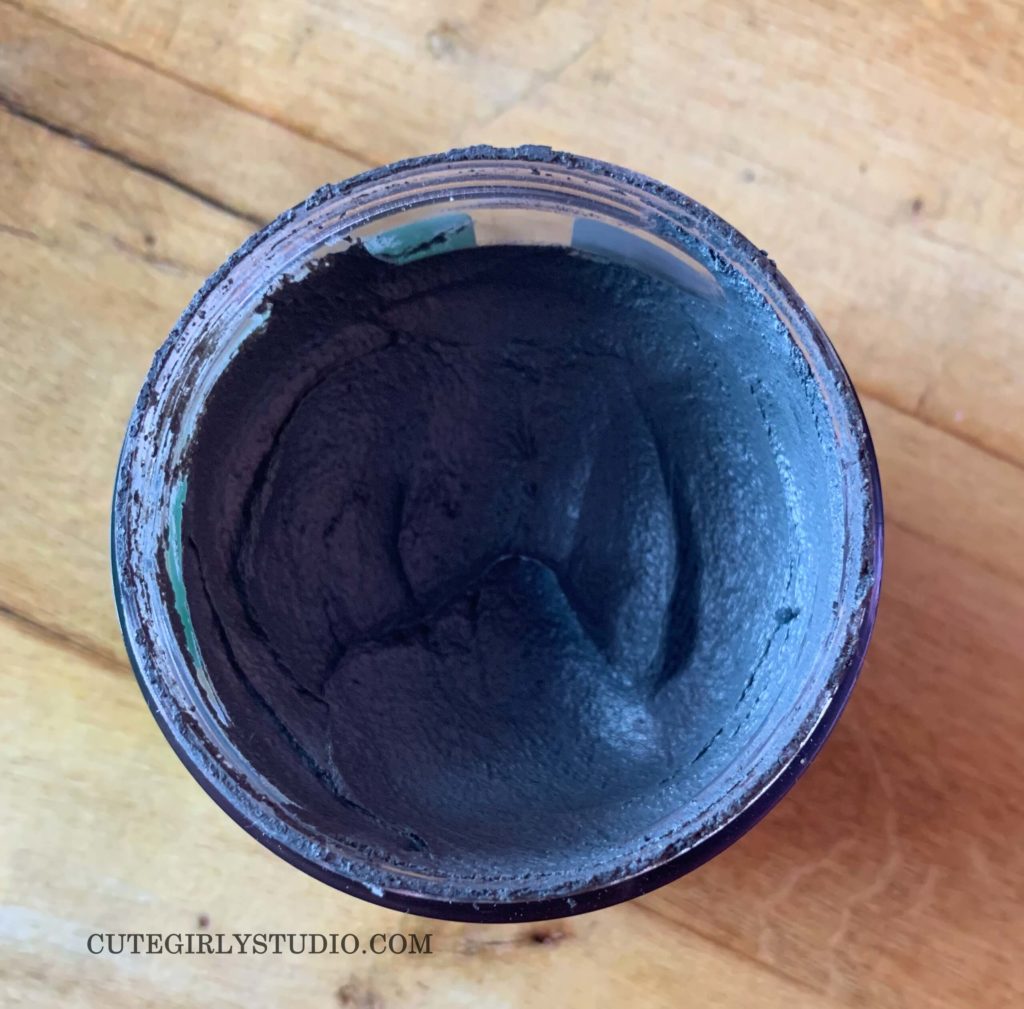 I have used the Greenberry organics mudash 3 in 1 for about 12 times now and I could say that it prevents blackheads and acne when used after oil cleansing our skin. Though it claims to reduce pigmentation, I didn't see any difference in that part, maybe using this as a daily cleanser might help with that case. Overall I could say that this is a decent face mask that acts as a cleanser scrub and a mask.
PROS
Sturdy packaging
Prevents acne and blackheads
Calms down the skin
Exfoliates the skin gently
Have skin-friendly ingredients
Little goes a longgg way
Removes excess sebum
Free from parabens and sulphates
CONS
The mudash might dehydrate the skin if used more than twice a week
Using charcoal and clay-based cleanser on a daily basis is not a great idea
DISCLAIMER
The product has been bought with my own money and not a sponsored post.
FINAL VERDICT
Greenberry organics mudash 3 in 1 mask scrub and cleanser is decent clay and charcoal-based face mask that helps to remove excess sebum that might clog the pores. It's not a must-have product in my opinion.
Xoxo