Hey girls… Winter is here and we all struggle to moisturize our skin in order to maintain a healthy glow. Today am going to review a product that helps to moisturize our face. After the failure of good vibes strawberry face wash, here I'm with a review of Good vibes nourishing saffron day cream. I'm using this for past 2 weeks regularly and I feel that this is the right time to review this baby. I came across this day cream in purplle.com. This brand was new to me when I bought these stuff. I'm using their essential oils and I like them.Apart from saffron cream, Good vibes have coconut cream, aloe vera cream, vitamin E cream and multi-vitamin cream. After reading some reviews in purplle.com I decided to buy Good vibes saffron day cream since many said that it 's not greasy. Let's get into the review
PRICE
Rs 225 for 50 gm of product. You can buy this here.
CLAIMS
Saffron, because, well SAFFRON with abundant skin healing properties evens out the skin.
Created for all but highly recommended for damaged skin.
INGREDIENTS
CCTG, Glycerin, stearic acid, olivem – 300(olive oil peg-6 esters), Aloe vera extract, vitamin E, cucumber extract, saffron extract, lavender extract, vanilla, sandalwood extract, fragrance.
SHELF LIFE
2 Years.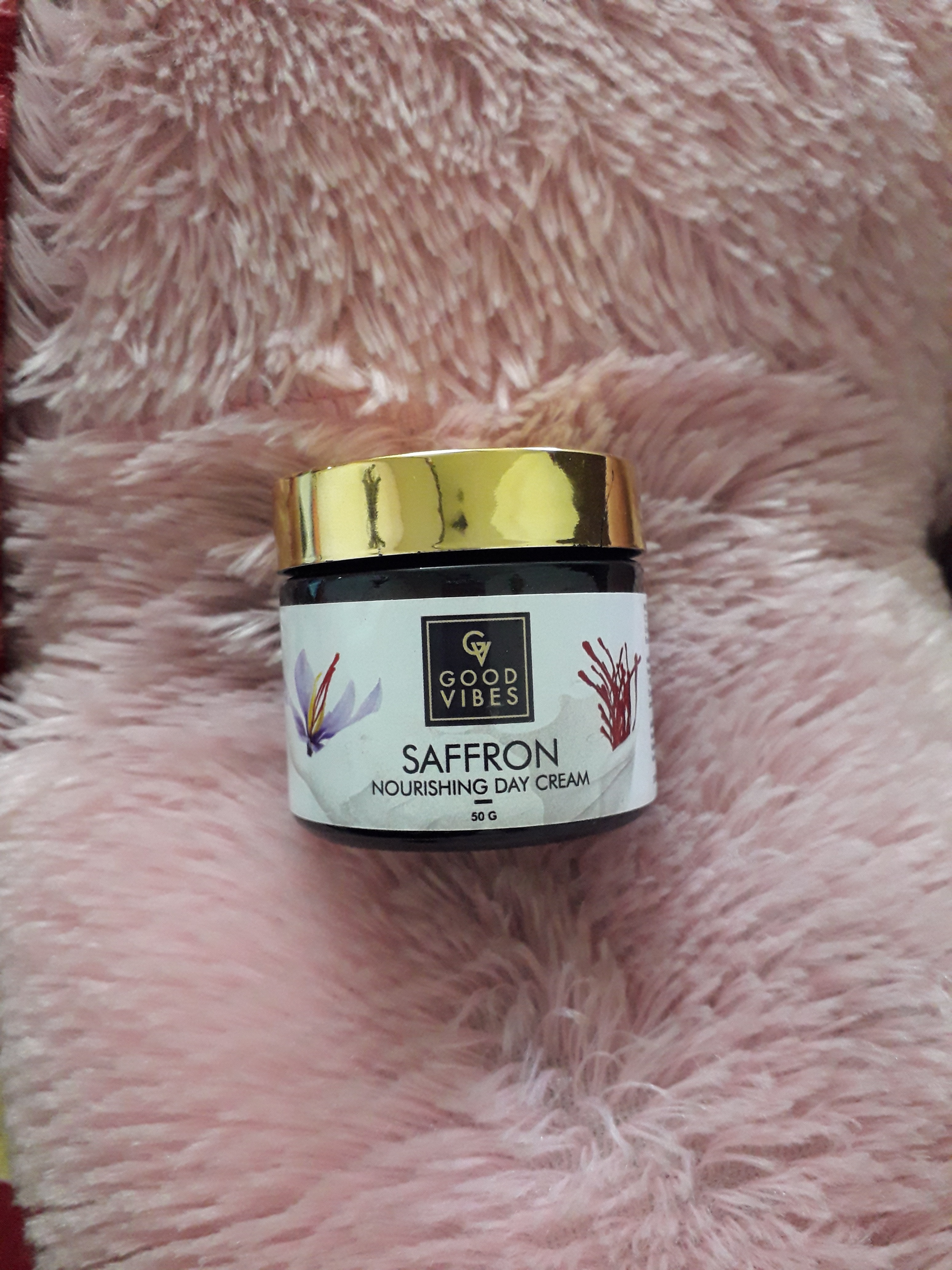 HOW TO USE
Scoop out natural goodness through your gentle fingers. Steadily and smoothly massage it on your cleansed face and go shine bright.
PACKAGING
The Good vibes nourishing day cream comes in a brown coloured glass tub container. There is a lid at the top of the tub that prevents the cream from spilling. The cap is black in colour with a golden colour coating. Overall the packaging is opaque which in turn increases the shelf life. Since the tub is made of glass, this is slightly heavy and so it's not the best choice to travel with this. I haven't dropped this tub but the cap of this tub has cracked so it's not travel-friendly since the cap may break at any time while travelling.
I would rate this 4/5 for packaging.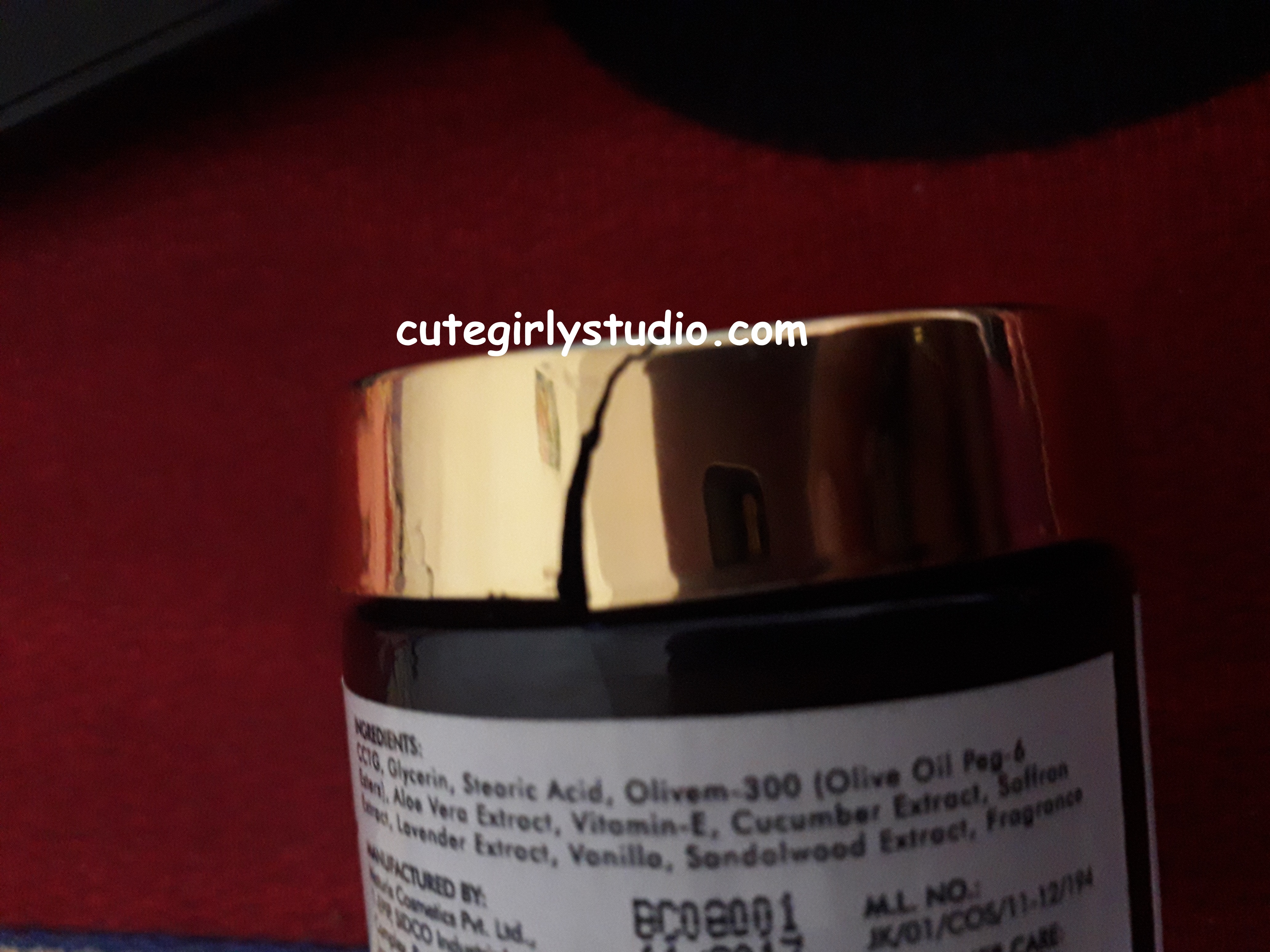 TEXTURE AND FRAGRANCE
The Good vibes nourishing saffron day cream is fluffy in texture. It doesn't feel heavy at all. When you touch this cream, you will feel it's lightness. The Good vibes nourishing day cream is not at all oily or thick. It spreads easily on your skin and a little goes long way. The cream is white in colour. The texture of this cream is somewhere between serum and thick cream. The fragrance of this cream is not very strong, it fades away as soon as you apply it. I can't put the fragrance of this cream into words. The cream has calming floral fragrance.
I would rate this 5/5 for texture.
MY TAKE ON GOOD VIBES NOURISHING DAY CREAM
I was little skeptical before trying this cream since most of the moisturizers and creams tend to be heavy on my facial skin and clogs my pores. But I was surprised after using Good vibes nourishing saffron day cream since this cream hydrated my skin without making it greasy or oily. I use this as my moisturizer in my CTM routine. After cleansing and toning my skin I take a small pea size amount of this cream from the tub and dot it all over my face. Then I massage this cream into my skin and my skin feels hydrated and supple.
The Good vibes nourishing day cream claims to suit damaged skin but in my opinion, this suits Oily skin well. If you apply this day cream in excess it makes your skin slightly oily but soon it gets absorbed into the skin. Other than hydrating your skin, this cream hasn't even toned my skin. I think this requires at least 2 months of regular usage to even out the skin. I will update you guys if it evens out my skin. Since I don't have damaged skin so I can't comment on the claim of repairing damaged skin. Since this is a day cream we all expect this to have sun protection but it doesn't have SPF, which is a turn off since most of the day creams available today have at least SPF of 15.
When you read the ingredient list you can see that saffron extract is at the end which means that saffron extract is in lesser quantity. Since this is a saffron cream, we all expect to have saffron extract in higher quantity. But aloe vera extract, cucumber extract and vitamin E are in a higher amount than saffron extract. Other than these I don't feel any con in this product.
THINGS THAT I LIKE ABOUT GOOD VIBES NOURISHING DAY CREAM
Affordable.
Has natural ingredients.
Paraben free.
Comes in an opaque glass container that increases shelf life.
Doesn't break out my skin.
Suits oily skin well.
Doesn't make skin oily or greasy.
Can be used as both day cream and night cream
THINGS THAT I DON'T LIKE ABOUT GOOD VIBES NOURISHING DAY CREAM
Doesn't have SPF.
Has saffron extract in a lesser amount.
Not a great option for extremely dry skin.
CGS RATING 4/5
I would recommend this to oily skinned beauties out there since this is an affordable moisturizer that suits oily skin pretty well.
Do let me know if you liked this post or not. Subscribe to my blog.
Follow me on Facebook | Instagram | Pinterest .
Stay tuned
Xoxo.