Ginger stimulates blood circulation which is wonderful for also stimulating hair growth. Blood flow brings added nutrients and oxygen to the surface, nourishing the scalp and hair follicles. This ginger-infused oil is easy to make at home and can be applied 1-2 times a week. I have shared a DIY Ginger oil that helps to reduce dandruff and also stimulate hair growth.
THINGS YOU NEED
BENEFITS OF GINGER OIL FOR HAIR
Ginger Oil contributes to the health and cleanliness of the scalp, soothes dryness and itchiness, and enhances healthier hair growth by stimulating and improving circulation to the scalp.
Ginger oil hydrates the dry skin of the scalp and thus brings effective results against the problem of dandruff. The antiseptic properties and anti-infectious properties of ginger root oil for hair never leave any gap in reducing the scalp infections that might be causing dandruff.
The use of ginger oil enhances the stimulation process of hair follicles which results in better and faster growth of the hair. Ginger oil for hair growth is nothing less than that magical ingredient that not only helps in hair growth but also helps in reducing the problem of hair loss and bad quality of hair. The ginger oil enhances the shine in the hair along with making them smoother than before.
HOW TO MAKE GINGER OIL
In a clean bowl, add ½ cup of virgin coconut oil.
Now chop the ginger and add it to the oil.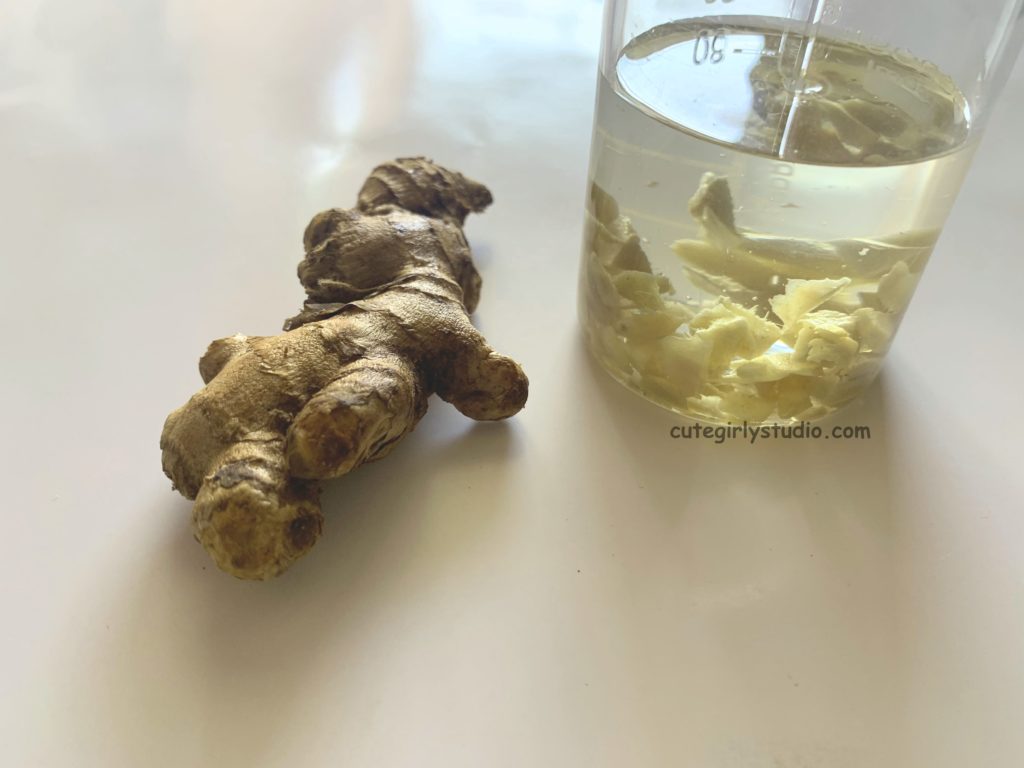 Heat the oil using the double boiler method for about 10 mins.
Now strain and store the oil in a clean bottle.
HOW TO USE THE DIY GINGER OIL
Take some oil and massage it all over the scalp. Apply a little bit of the oil all over hair strands and tie your hair up in a bun or in a braid. Leave it for about 2 to 3 hours and then shampoo your hair. Follow this twice a week.
BENEFITS OF COCONUT OIL FOR HAIR
Coconut oil moisturizes dry hair. Coconut oil adds lustre, shine and softness to the hair. It prevents hair breakage and split ends, contributing to hair length. It stimulates hair growth getting deep into its follicles. Coconut oil moisturizes dry hair. Excessive grooming can damage the hair shaft, which in extreme circumstances can cause hair loss. Coconut oil can help keep your hair in good condition and prevent this.
Coconut oil is rich in antioxidants and has antiviral, antifungal, and antibacterial properties. Its essential nutrients are lauric acid, which nourishes the hair with vitamins, minerals, and medium-chain fatty acids.
When using coconut oil for hair, it improves scalp health, fights infections and fungus, and supports hair growth. It recovers the overall health of your hair. For damaged, thinned, and dry hair, coconut oil is the best. It hydrates the hair by penetrating the shaft.
THINGS USED IN THIS DIY