Hey all…
First of all I need to wish you all a very happy new year. One of my New Year resolutions is to update my blog frequently. So let's hope that I will be updating my blog frequently. I was experimenting with DIY face mist for some time and I loved a couple of the face mists. I kept a Instagram poll asking which face mist should I blog about and many chose basil face mist and here is my post. I am using this face mist for past few weeks and I love this. Though this DIY calls for some extra time, at end of the day it's worth the effort.
THINGS THAT YOU WILL NEED
Holy basil – 1 bunch
Drinking water – 1.5 cups
[OPTIONAL]
Neem leaves – 2stigs
Fresh aloe vera – tiny piece
Fresh or dried turmeric root – tiny piece
HOW TO MAKE DISTILLED BASIL FACE MIST
Take a pan and keep a vessel stand or a small cup as shown in the image below.
Now place the basil leaves around the vessel stand or the cup that we have placed. I have added holy basil in this image. You can also add neem leaves, fresh aloe vera gel and turmeric root for anti acne properties. Don't worry the turmeric won't stain your skin. In fact the end product will be just like the water.
Now add 1.5 cups of drinking water to the pan. Don't add too much water, we will end up with extremely diluted face mist.
Place a wide cup on top of the vessel stand that we have placed. This cup will collect the distilled water. Make sure to use a wide.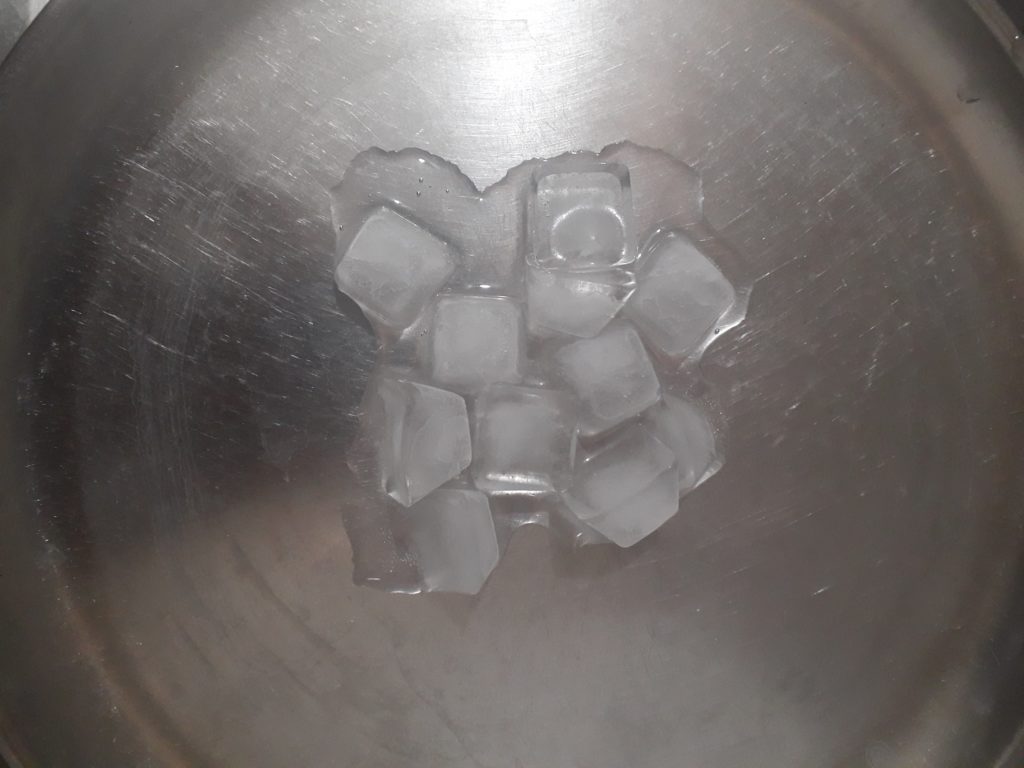 Cover the pan with a plate or lid and place ice cubes on top of the lid or plate.
Now place the pan on the stove top and heat it in medium to low flame. Leave it for about 20 minutes and then switch off the flame. Keep it undisturbed for 1 to 2 hours.
After 2 hours, you can see distilled water collected in the cup that we have placed. Transfer it to a spray bottle. Your anti acne face mist is now ready to use.
SHELF LIFE – It stays good for 1 month at room temperature. If refrigerated it stays good for 2 months.
HOW TO USE.
Mist this all over your face whenever you feel that your skin is dehydrated. You can also use this on your scalp to treat dandruff .
WHY THESE INGREDIENTS?
HOLY BASIL
Holy basil is a detoxifying herb. It helps to purify our skin which means reduces bacterial growth on our skin. It soothes inflammation and thus reduces acne due to inflammation on skin. Holy basil helps to fade scars when uses on a regular basis. Holy basil stimulates blood circulation to scalp and thus promotes hair growth.
NEEM LEAVES
Neem leaves lightens scars and pigmentation. It kills acne causing bacteria. It tones the skin and also prevents blackheads.
TURMERIC ROOT
Turmeric lightens spots and reduces acne breakouts. It adds glow to the skin. Curcumin found in turmeric is anti inflammatory in nature and thus curbs inflammation on skin. It is clarifying in nature and thus deep cleanses the pore which is beneficial for oily skinned beauties.
ALOE VERA
The components present in aloe vera is said to increase cell turnover which helps to reduce acne and acne scars. Aloe vera gel has powerful anti-inflammatory compounds that help reduce swelling, inflammation, redness and rashes on the skin.
If you give this face mist a try do let me know your experience in the comments section. That's it guy… I Will be back with a new post. Thanks for stopping by.
Xoxo