Hello everyone..
After some DIY posts, today am with review of Blue heaven xpression makeup stick which is a product from my blue heaven haul. I don't feel like reviewing those products but I want to give some ideas to my readers about this brand's products so that they can get clear idea whether to buy product from this brand or not. I don't say that I hate these products but I don't feel like using them. After seeing many you tubers raving this brand, I gave this brand a try and I feel like there is nothing to rave these products. Some products are good for the price we pay whereas some products are totally useless. So read on more to know whether you need to invest in this product or not.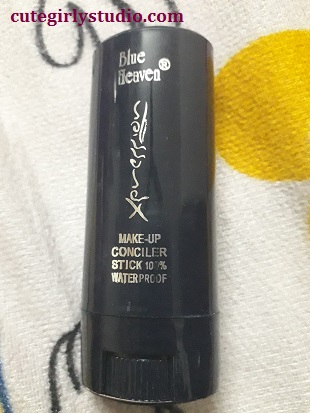 CLAIMS OF BLUE HEAVEN XPRESSION MAKEUP STICK
Blue heaven's waterproof pan stick, a creamy concealer in stick form, specially developed for face and body to provide you a youthful glow.
SHADE
The shade that I bought is mentioned as PINK GOLD (06) in my makeup stick but in website it is mentioned as PINK GLOW

PRICE
Rs 95 for 11.5 gm of product. You can buy this here and here
INGREDIENTS
Mineral oil, candellila wax, carnauba wax, paraffin wax, MCT, Ethyl Hexyl palmitate, Hydrated magnesium silicate, aluminium startch octenyl succinate, cl 77891, cl 77491, cl 77492, BHT, permitted preservatives and perfume.
SHELF LIFE
3 years.
MY VIEW
The Blue heaven xpression makeup stick comes in a blue colour retractable stick packaging. The makeup stick comes in outer cardboard that has necessary information. The makeup stick has the name of the product written over it and the spelling of the concealer is wrong. It is written as make-up conciler stick. I'm not sure whether it is manufacturing defect or not. The cap doesn't shut properly and it is not sturdy. Definitely the product is not travel friendly since the cap may open at anytime when we travel with this.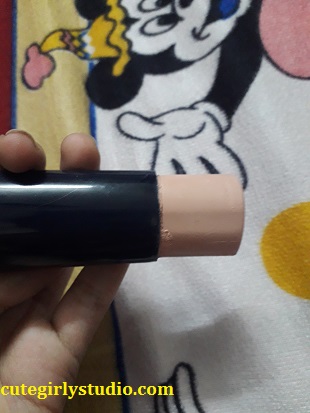 Texture and undertone:
The Blue heaven xpression makeup stick that I bought has creamy texture as claimed. It is so creamy and it blends quickly without any effort. It is better to blend with fingers, If you use sponge or blender this gets transferred to the sponge. The Blue heaven xpression makeup stick has strong smell that irritates sensitive nose. It remains even after application. This may also irritate sensitive skin. Products with strong fragrance is a big no for me since it exaggerate my acne issue. The main drawback of these makeup sticks is their undertones.
Almost all of these makeup sticks have pink undertone in it. So if you are someone with strong yellow undertones then you may have a tough time in selecting a shade. Even the shade named as natural has pink undertone. The makeup stick looks pale in the pictures but this shade is actually beige with pink undertones. I have yellow undertone and this shade doesn't suit me well. If you have pink undertone then these makeup sticks will suit you guys.
If you are regular reader of my blog you know that I have super oily skin. Since this makeup stick is extremely creamy it makes my skin even more oily whenever I use this on my face. I use this only around my eyes. I don't have serious dark circle issues but I do have mild dark circles. This makeup stick covers my dark circles well. But if you have serious dark circle problem then it won't cover those. Also this makeup stick doesn't conceal any of the scars and spots that you have. In my opinion this makeup stick will work for people with dry skin. The staying powder of this makeup stick is low due to it's creamy nature. It creases after 1 to 2 hours even if we set it with mattifying powder.
PROS
Blends easily.
Affordable.
Comes in 6 different shades.
Covers minimal flaws.
CONS
Feels heavy and oily on oily skin.
Creases quickly.
Don't cover spots and scars.
Flimsy packaging.
Strong overpowering smell.
FINAL THOUGHTS

For 95 INR we cannot expect anything more from this product. This is a decent base product that work better for people with little to no flaws on their skin. People with dry skin may give this a try but I wont recommend this to people with oily skin.
CGS RATING 3/5