Banana face mask helps in keeping your skin soft and smooth. This humble fruit is jam-packed with essential vitamins that are not only beneficial internally but also good for topical application. Banana face masks are used as skin corrected by many. When used with the right ingredients, bananas can help you in maintaining the skin's health. Banana is also great for reviving dry and damaged hair. Banana is also considered a natural botox alternative. [SOURCE]
BENEFITS OF USING BANANA FOR SKIN
VITAMIN A
Banana has Vitamin A that helps in fading away dark spots. It also treats sunburnt skin. Using bananas regularly will result in an even skin tone.
VITAMIN C
The benefits of Vitamin C are known to everyone. It helps in maintaining skin health. Vitamin C in banana helps in soothing sun-damaged skin. It also helps in keeping the skin blemish-free and brightened.
VITAMIN E
Vitamin E in the banana soothes the skin. It prevents free radical damage and thus delays pre mature aging signs. Also, it strengthens skin barrier function.
POTASSIUM
Potassium is what your is craving if your skin and hair are dry. Eating a banana along with topical application helps in reviving your dry skin or hair.
BANANA FACE MASK FOR ACNE, BLEMISHES, SCARS
Acne is a common issue even with adults. Using this banana mask helps to get rid of acne without irritating your skin. You can use this face mask even if your skin is dry. It doesn't clog the oily skin too. So this anti-acne banana face mask is meant for all skin types
Take  2 Spoons of mashed banana make sure it is free from lumps (use a blender to make a pulp), add a pinch of turmeric and 1 spoon of thick yogurt. Mix it well.
Apply this all over the skin. Leave it for about 25 minutes before washing it off.
Use not more than 3 times a week.
BANANA FACE MASK FOR DRY SKIN
Dry skin requires constant care, it turns flaky, dry, and ashy if left untouched. Using a moisturizing face mask at least once a week is crucial when it comes to maintaining dry skin. This banana face mask has the goodness of milk powder that helps in moisturizing your skin.
Take 2 spoons of mashed banana, add 2 spoons of milk [ if you don't have milk powder, use 1 spoon of rice powder instead of 2 spoons of milk powder]. Mix them well. If required add water to adjust the consistency.
Apply this all over the skin. Leave it for about 15 minutes before washing it off.
Use this face mask twice a week to revive your dull and dry skin.
The banana and milk powder helps in moisturizing the dry skin and also adds a beautiful glow to the skin that dry skin lacks.
BANANA FACE MASK FOR GLOWING SKIN
Vitamin C and Vitamin A in the banana helps in bringing that natural glow to your skin. The melted jaggery added in this face mask is rich in AHA that helps in exfoliating your skin without being harsh. This gentle, kind of chemically exfoliating banana face mask keeps your skin glowing for sure.
Take 2 spoons of mashed banana, to this add 1 spoon of milk and 1 spoon of melted jaggery (substitute with honey if you don't have melted jaggery AKA jaggery syrup). Mix them well.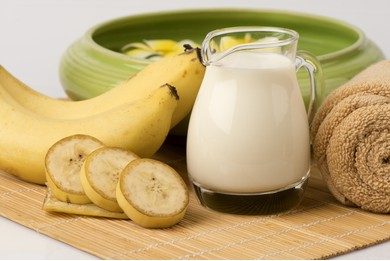 Apply the face mask all over the skin and leave it for about 20 minutes before washing it off.
Use this face mask thrice a week for good results.
FAQ FOR BANANA FACE MASKS
What does a banana do to your skin?
It helps in brightening the skin, keeps the skin moisturized. Banana also helps in removing excess sebum. The anti-inflammatory property of banana also reduces acne effectively.
Can I mash my banana with a fork?
YES. But I recommend adding the banana to a blender since it gives a lump-free pulp which helps in a mess-free application.
Is banana good for skin lightening?
I don't support skin lightening. But using a banana face mask regularly will help you get rid of dark spots due to the presence of Vitamin A and C.
Do try any of these banana face masks and let me know what do you feel.
Xoxo